Superyacht belonging to 'Russian businessman' bursts into flames in Turkish marina (VIDEO)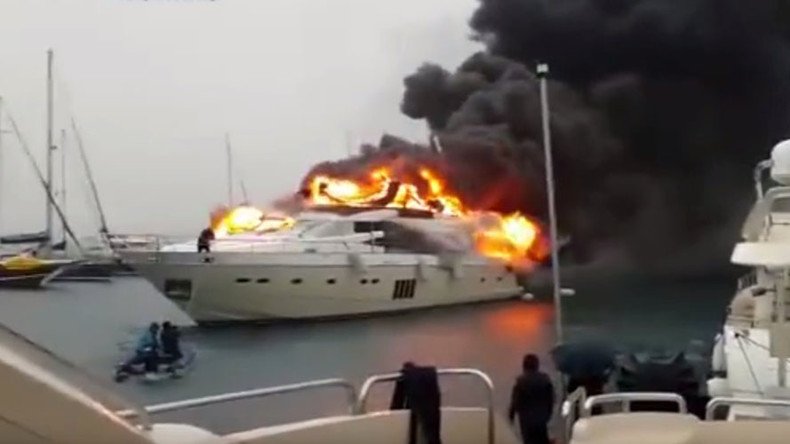 A 90-ft yacht supposedly worth at least $5.7 million has caught fire while anchored at a marina in Fethiye, Turkey.
In the video published by Yacht Marine Brokerage, the superyacht is seen ablaze with thick plumes of black smoke billowing from it. The yacht caught fire on a rainy day on Thursday at the marina where the vessel was docked, on Turkey's southwestern Turquoise Coast in the Mediterranean.
The fire was so huge that in order to prevent flames from spreading to other boats, the burning yacht had to be towed away, with a person seen on board. The man was later identified by the authorities as the ship's captain, Vladimir Lopata, who suffered from smoke inhalation and was taken to hospital, Boat International reported.
According to the Daily Mail, the luxurious vessel belonged to a Russian businessman. But some commentators on YouTube suggested the owner is Ukrainian.
The boat is a Princess 95 yacht called Queen Anna. The semi-custom superyachts series was launched in 2009, and has a master suite, VIP and two twin rooms. An investigation has been launched.
You can share this story on social media: