MSF paramedic, civilian first responders killed in Saudi double-tap airstrike in Yemen (GRAPHIC)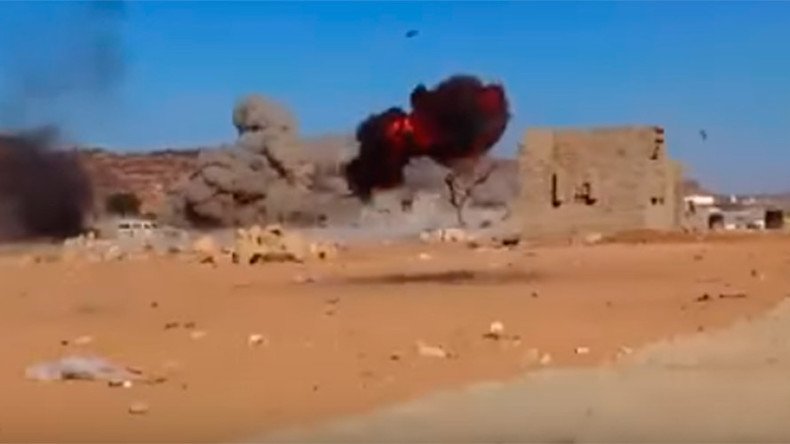 Almost two dozen people, including civilian rescuers and an ambulance driver from an MSF-affiliated hospital, have reportedly been killed after Saudi-led coalition planes carried out repeated airstrikes on the same target in Sa'ada province, Yemen.
Médecins Sans Frontières (MSF) confirmed the fatal air raids in Sa'ada, saying the "planes went back to bomb areas already hit."
The incident took place in the town of Dhayan, about 20 kilometers from the city of Sa'ada and not far from another MSF-supported hospital, Shiara, which was hit by a missile on January 10.
#BREAKING Yemen: Repeated airstrikes in villages in Saada kill an ambulance driver from an MSF hospital on his way to help

— Doctors w/o Borders (@MSF_USA) January 21, 2016
"An ambulance driver from an MSF hospital [was] killed," the NGO wrote, explaining that the first responders at the scene had been trying to help those wounded in the first round of strikes.
"This latest loss of a colleague is devastating, and it demonstrates the ruthlessness with which healthcare is coming under attack in Yemen. People there are being subjected to this kind of violence on a daily basis. No one, not even healthcare workers, are being spared," Teresa Sancristoval, emergency coordinator at MSF, said in a statement.
The ambulance had just picked up the victims when a direct strike killed everyone inside it, said the director of the Jumhuriya Hospital in Sa'ada province, according to the New York Times.
Yemen's Health Ministry has strongly condemned the coalition's actions as a "heinous massacre" that first targeted a residential building in Sa'ada, Saba news agency reports, citing ministry spokesperson Dr. Nashwan Attab.
According to reports, at least 20 people were killed and another 35 wounded, in what the medics claim was a deliberate attack. Following the initial air raid in the Dhahyan district of Sa'ada, first responders rushed to the scene to care for the wounded. But the planes soon returned to strike again in an attempt to "completely eliminate the few remaining medical staff in the province," Dr. Attab said.
WARNING! DISTURBING VIDEO, VIEWER DISCRETION IS ADVISED!
"There are still people under the rubble and it is difficult to get them as a result of targeting by Saudi aggression of paramedics and medical personnel in the region," he added.
Two other local towns, Baqim and Al Jawf, were also hit in airstrikes overnight into Friday, with the MSF confirming that at least 40 people were injured in the attacks, six of whom subsequently died.
Earlier this week, MSF said that the Saudi coalition continues to engage civilian targets on the ground, in particular medical treatment facilities, noting that over 100 hospitals have witnessed attacks since the Saudi-led intervention began last March.
READ MORE: Yemeni hospitals seen as targets, people 'avoid them as much as possible' – MSF
The constant bombing of health clinics in Yemen has created conditions in which locals fear for their lives and try to avoid hospitals at all costs, MSF said. The United Nations has criticized the Saudi-led bombing campaign in Yemen for the disproportionate number of civilian deaths and the destruction of infrastructure.
The UN estimates that the violence has resulted in a dramatic increase in civilian casualties, with more than 5,800 people killed in Yemen since March.
You can share this story on social media: