10 killed in explosion during raid on terrorist hideout in Egypt's Giza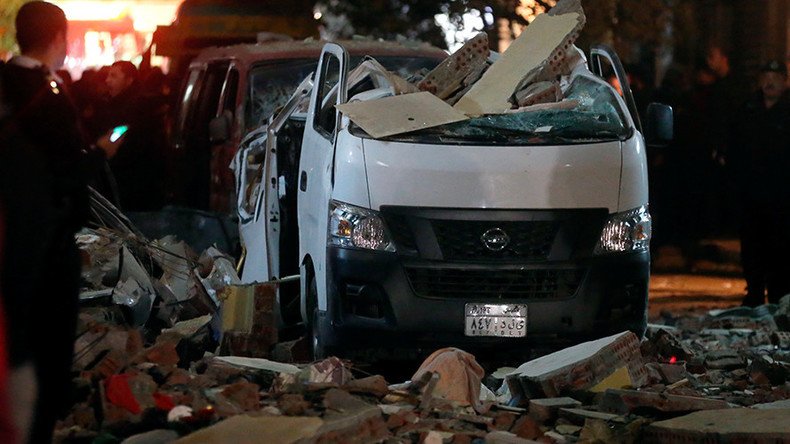 At least 10 people have reportedly been killed and further 13 injured after a bomb exploded during a police raid on a suspected terrorists' hideout in the Cairo suburb of Giza near the road leading to the famous Egyptian Pyramids.
The bomb exploded at an apartment building as police arrived to conduct a raid on it. Suspected militants were believed to have been hiding and preparing explosives inside, Ahram Online reports.
Ten people, including seven policemen and three civilians, were killed when security officers attempted to diffuse a time-bomb, prosecutor Ahmed El-Tamawy told Aswat Masriya. At least 13 others were injured.
The Interior Ministry blamed Muslim Brotherhood militants for the explosion. According to the local media a suspect has been detained in connection with the bombing.
Earlier in the day, Islamic State militants claimed responsibility for an attack carried out late Wednesday night on a checkpoint in the Sinai Peninsula that killed five policemen, the interior ministry announced.
"Unidentified gunmen opened fire on security forces at El Etlawi square in the centre of El Arish," the ministry said in a statement.
OP-EDGE: 'Terror attacks on Egyptian soft targets will continue'
Egyptian authorities have intensified a crackdown on extremists in the country ahead of the five year anniversary of the country's 2011 Arab Spring uprising that ousted the long-time leader Hosni Mubarak. According to AP sources, security forces searched more than 5,000 homes in central Cairo as a "precautionary measure" over the past ten days.
You can share this story on social media: