Iraqi civilians killed in 2nd strike on ISIS financial target – Pentagon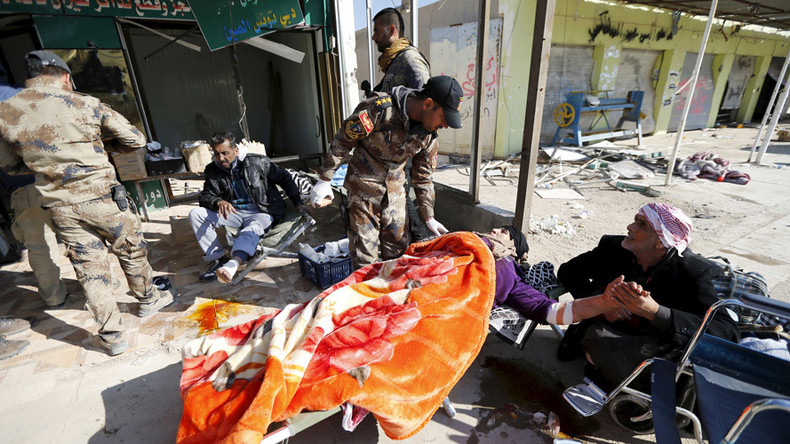 US-led coalition airstrikes killed Iraqi civilians in latest hit against an Islamic State financial target in Mosul, according to the Pentagon. The coalition said they had been prepared to accept "some" civilian casualties.
"Yes, we were prepared to accept civilian casualties in conjunction with this cash strike, it's tragic and it's not something that we want to do," said Army Colonel Steve Warren, spokesman for the US Command in Iraq, in a Pentagon briefing on Wednesday, according to Reuters.
"One of the burdens of command is to weight the military value of a target versus the potential for civilian loss of life and the potential for collateral damage," he added.
Warren said that initial estimates showed civilian casualties were low and in the "single digits."
Earlier in January, the State Department admitted the US military used a "calculus" for determining civilian casualties against the value of targets when conducting airstrikes. State Department spokesman Mark Toner s declined to disclose the specifics or figures involved.
"We seek to minimize civilian casualties in any kind of military action or airstrike that we take," Toner said during a department briefing, adding that when US strikes do kill civilians, "there is accountability."
The latest US-led coalition airstrike hit a "cash collection point" in the Islamic State (IS, formerly ISIS/ISIL) stronghold of Mosul on Monday. The US military said that brings the total strikes on these targets to nine in Iraq and Syria.
"This was the second strike in Mosul in as many weeks against ISIL financial targets," said Warren.
Col. Warren stressed the accuracy of the strikes, guided by GPS, where they can squarely hit one building while doing limited damage to its neighbors.
"Striking these cash-collection points hurts this enemy, right?" he said, reported the Washington Times. "They operate on cash, right? There is no credit in ISIL."
Targeting Islamic State's finances is said to be a key strategy of the coalition's effort, Operation Inherent Resolve, to defeat the group. There have been strikes on ISIS oil facilities as well as the cash collection points.
Reuters reported that Iraq's finance minister had said ISIS had looted nearly half a billion dollars from banks in Mosul and other northern cities, like Tikrit and Baiji in 2015, after moving across the Syrian border. The money has been used to pay Islamic State fighters, an enticement for foreign recruits to join the fight for the so-called caliphate.
On January 11, the US Defense Department declassified a video which it said shows a coalition air strike against an ISIS cash depot in Mosul, north Iraq. The video shows a bomb striking an area amid a cluster of buildings. Clouds of cash can be seen fluttering in the air.
The head of the US Central Command, General Lloyd Austin, told CNN on January 15, that it was "a good strike" that deprived IS of "millions of dollars."
"Combined with all of the other strikes that we've done on ISIL's gas and oil production and distribution capabilities and strikes against his economic infrastructure and the various sources of revenue, you can bet that [it] is feeling the strain on ... [the] checkbook," General Austin added.
You can share this story on social media: