Assange to answer Sweden's questions 'in days' – Ecuadorian President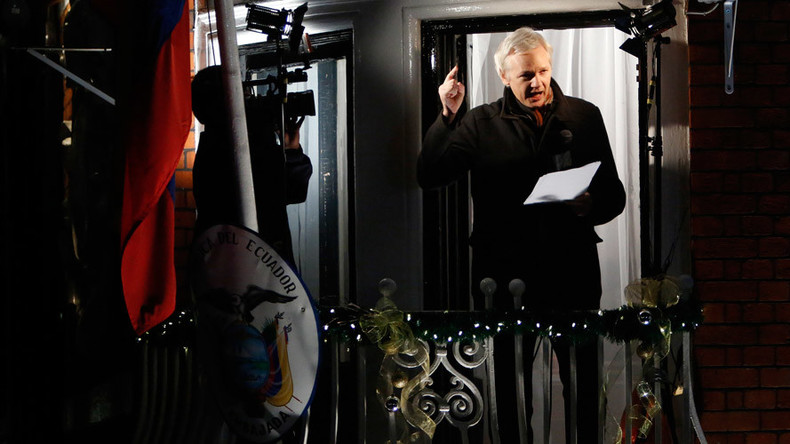 Wikileaks founder Julian Assange, who has been living in the Ecuadorian embassy in London for over three years, will finally answer a Swedish prosecutor's questions about a six-year-old rape allegation, Ecuador's president Rafael Correa said.
Correa told journalists during a news briefing that the interrogation of the famous whistleblower could take place within the next few days, Reuters reports.
Earlier, Ecuadroian authorities granted permission to Swedish prosecutors to question Assange at the embassy, provided Ecuador's laws are respected. The move was a response to an official request from Sweden following an agreement signed by the two countries last month establishing general legal cooperation between them.
Ecuador's Foreign Minister, Ricardo Patino, suggested in the interview to the Publica national radio station on Friday that Swedish authorities could provide their Ecuadorian counterparts with the questions and they could be asked in the presence of a Swedish prosecutor.
An Australian citizen, Assange sought refuge in the Ecuadorian embassy in London in 2012 facing extradition to Sweden over the sex assaults and rape allegations. He refused to go to Sweden fearing further extradition to the US, where he could be tried for leaking hundreds of thousands of classified US military and diplomatic documents in 2010.
Swedish prosecutors dropped a sexual assault investigation against Assange in mid-August as the five-year statute of limitations expired. The more serious rape allegation only expires after 10 years, meaning it would be dropped in 2020.
Previously, Sweden refused to question Assange in the embassy, despite the whistleblower's offer to give his testimony from there.
British police guarded the Ecuadorian embassy 24 hours a day for over three years.
The permanent guard was removed by Scotland Yard in October, saying it was no longer "proportionate," after racking up £12.6 million ($17.8mn) in costs to taxpayers.
You can share this story on social media: