Macedonia closes border with Greece to migrants - report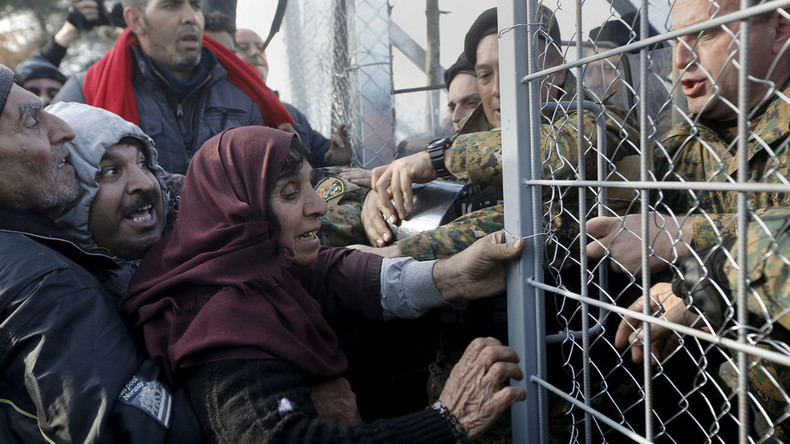 Macedonia has closed its border with Greece to migrants, AFP reports, citing police.
"The border is closed," a senior Macedonian police official told AFP. The move has left around 600 refugees stranded in Greece. A police spokesman in northern Greece told the agency that the border has been closed since Tuesday evening.
Macedonian officials said that the border closure was "temporary" and cited several reasons for the move, which included a railway traffic disturbance on the territory of neighboring Slovenia.
"Macedonia temporarily closed the border upon the request received from Slovenia. The reason is a defect on the railroad (in Slovenia) and migrants trying to enter Macedonia could not continue their journey," a Skopje police official said as quoted by AFP.
Slovenian railway company Slovenske Zeleznice (SZ) denied any such claims, although the SZ's website reported some technical problems that disrupted traffic at the crossing with Croatia on Wednesday. At the same time, the company's spokesman told Slovenian news agency STA that refugees "have been traveling undisturbed so far."
Macedonia (non-EU) closes shared border with Greece to migrants, senior police official tells #AFP, leaving 600 stranded

— Marc Burleigh (@marcburleigh) January 20, 2016
Meanwhile, a Serbian government minister said on Wednesday that Serbia will deny refugees access to its territory unless they plan to seek asylum in Austria or Germany.
"From today...migrants will not be able to continue their travel [through Serbia] if they have not expressed intention to seek asylum on the territory of Austria or Germany," Labour Minister Aleksandar Vulin said, as quoted by state news agency Tanjug.
The interior minister of neighboring Croatia also said his country would begin asking refugees if they intend to seek asylum in Austria or Germany, according to state news agency Hina.
A new, center-right coalition government is due to take office in Croatia later this week, and is expected to clamp down on refugee flows.
It comes just three days after Austria's chancellor announced the country was radically changing its policy towards refugees. The nation has implemented a strict monitoring system for asylum seekers, and those hoping to enter the country now have to provide a valid identity card to authorities. People who do not have the right to asylum or have been rejected by Germany will be denied entry. Those found to be economic migrants will be sent back to their home countries. The army has been deployed at the borders to stop refugees who intend to simply transit through the country and not apply for asylum there.
In the meantime, different children's charities warned that young refugees are being exposed to serious health risks due to the cold Balkan weather as temperatures in Southern Serbia dropped to minus 15 degrees Celsius.
UNICEF, the UN Children's Fund, released a statement warning that refugee children arriving in the Balkans are "physically exhausted, scared, distressed and often in need of medical assistance."
Meanwhile, Mirjana Milenkovski, a spokeswoman for the UN Refugee Agency in Serbia, warned that an increasing number of refugees that have arrived to Europe have flu or respiratory infections adding that refugees have been provided with clothing, medical care and other assistance.
Europe continues to face the worst refugee crisis since World War II, with the number of new arrivals expected increase this year.
More than one million refugees arrived in the European Union last year. Most of the asylum seekers hail from Syria, where a civil war has claimed the lives of 250,000 people and displaced 12 million others since 2011, according to UN figures.
You can share this story on social media: