7 dead after suicide car bomb explodes near Russian embassy in Kabul (VIDEOS, PHOTOS)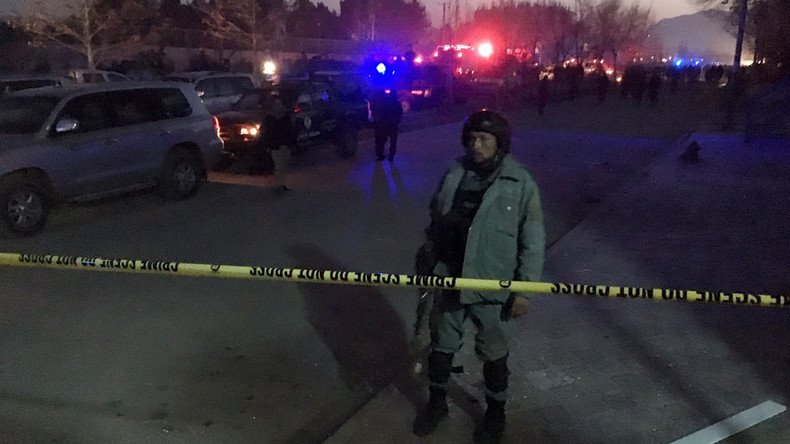 At least seven people have been killed in a suicide car bomb explosion that struck near the Russian embassy in Kabul. A terrorist was apparently targeting a van carrying local journalists, Afghan officials say.
At least 20 more people, including women and children, were injured in the incident, Reuters reported citing Ismail Kawusi, a spokesman of the Ministry of Public Health. Earlier, Afghan Deputy Minister of Interior Muhammad Ayoub Salangi earlier tweeted that four people had been killed and 24 were injured.
The suicide car bomb attack took place on Darul Aman road, according to embassy spokesman Aleksey Kosarev. He said there were no casualties among the embassy staff.
The suicide bomber targeted a vehicle owned by a company that works for Afghan Tolo News – the country's 24-hour news channel, Kabul Police Chief Abdul Rahman Rahimi told reporters without revealing any specific information concerning casualties among journalists.
The Tliban openly threatened the channel in 2015 after it reported executions, rape, kidnappings and other abuses allegedly committed by Taliban militants during the battle for the Afghan northern city of Kunduz. The insurgents briefly seized the city last year before being driven away by the government forces. However, no one has yet claimed responsibility for the attack.
Following the terrorist attack in the immediate neighborhood, Russian embassy in Kabul enhances its security, a statement at the Russian Foreign Ministry said.
"Russian diplomatic mission takes measures to enhance security of the embassy and its personnel in cooperation with the Afghan authorities," said a statement published on its website, confirming that there are no casualties among the embassy employees with the building suffering only minor damage.
Separately on Wednesday, the US government issued a warning about the militants allegedly planning to attack a hotel or guesthouse frequented by foreigners in Kabul, Reuters reports. The US statement gave no further information concerning the timing, location or method of the attack.
There have already been six bomb attacks in Kabul since the start of 2016. On Sunday, an area near Italy's embassy was hit by a rocket, leaving two security guards injured.
Earlier, Taliban terrorists targeted a French restaurant, a police checkpoint and the Indian consulate, as well as some other places in and around Kabul.
The Wednesday attack comes as representatives from Pakistan, the US, China and Afghanistan are trying to lay the ground for a renewed peace talks with Taliban aimed at ending the 15-year insurgency.
The negotiators gathered in Islamabad last week and the meeting resumed this week in Kabul. The Taliban has not yet taken part in the talks, despite the calls to join the peace process.
You can share this story on social media: