'Catastrophic failure': MSF slams EU refugee policies as smuggling encouragement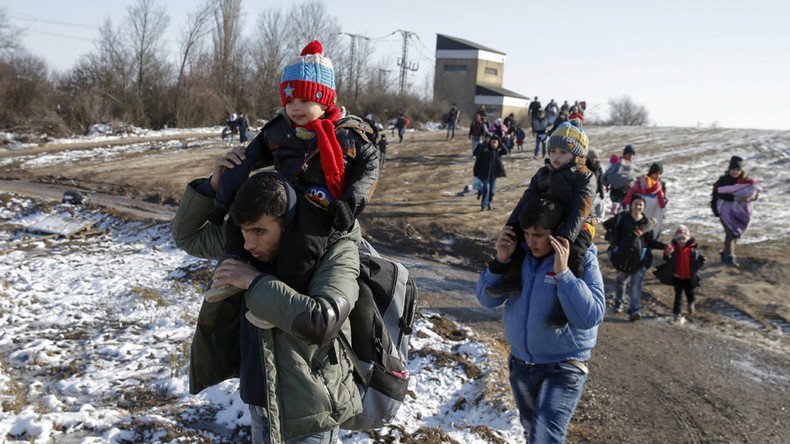 Medecins Sans Frontieres has harshly criticized the EU for its "catastrophic failure" to address the needs of refugees fleeing war-zones and building barriers that achieve nothing but force migrants to resort to dangerous smuggling routes in order to reach Europe.
Releasing the report titled "Obstacle Course to Europe" MSF lashed out against Europe's move to introduce artificial barriers and walls that prevent refugees from finding a safe passage to the EU.
"While the official discourse in Europe has tended to present the continent as overwhelmed by an ever-growing wave of migrants and refugees, their number accounts for less than 0.02 percent of Europe's total population," the report reads.
In contrast to the EU's economic wealth, the less well-off countries, such as Turkey, Pakistan and Lebanon, found fewer excuses to host one third of the world's refugees. In Lebanon, for instance, refugees represent almost 30 percent of its 5.8 million population.
EU, the MSF believes, has artificially created a problem in dealing with the refugee influx, that according to the NGO amounted to 1,008,616 out of 60 million displaced worldwide.
The MSF says that the conditions faced by the refugees constitute, in large part, "a policy-driven crisis" fueled by the failure of the European Union to initiate "adequate and humane policies," and develop responses to deal with a "foreseeable" movement of people.
The year 2015, will be remembered as the year in which Europe "catastrophically failed in its responsibility" to respond and protect thousands of people, MSF says.
The NGO reports states that EU member states continue to "collectively fail" to tackle the "humanitarian and medical" needs of refugees, as part of the wider EU "deterrence and anti-immigration policies" that have been in place for 15 years. The report based on refugee accounts highlights the failures of the Common European Asylum System (CEAS ) introduced by the block in 1999.
Razor wire fences, closed borders and "intimidating" security controls at the borders are named at the heart of the policy problems. "Squalid and inhumane reception conditions", and complicated asylum registration procedures are named as barriers of the movement of people.
READ MORE: Blocking refugees in Europe hurts thousands – Doctors Without Borders
Such policies, the IMF argues resulted in the increased the demand for migrant smuggling networks that place people's lives at risk. At least 3,771 people had died whilst attempting the sea crossing to Europe in 2015.
"Closing borders does not stop people moving, it simply shifts their routes," the report read, adding that "deterrence policies have [a] direct detrimental humanitarian and medical impact."
In the new year, MSF urges that Brussels and all individual member states to offer better conditions for thousands seeking shelter within the EU.
OP-EDGE: Migrant crisis proves failed dream of the EU
"In 2016, European countries must take stock of the human cost of their decisions, assume their responsibilities and learn from their mistakes," said Brice de le Vingne, Director of Operations for MSF.
"It may be a new year but we know that people will continue to risk their lives and no restrictive policy will stop them from seeking a better future for themselves and their families. We continue to call for a safe passage and urge Europe to stop playing with people's lives and dignity," says Aurelie Ponthieu, MSF's Humanitarian Advisor on Displacement.
You can share this story on social media: