Defrosted tiny animals come back to life, breed after 30 years in freezer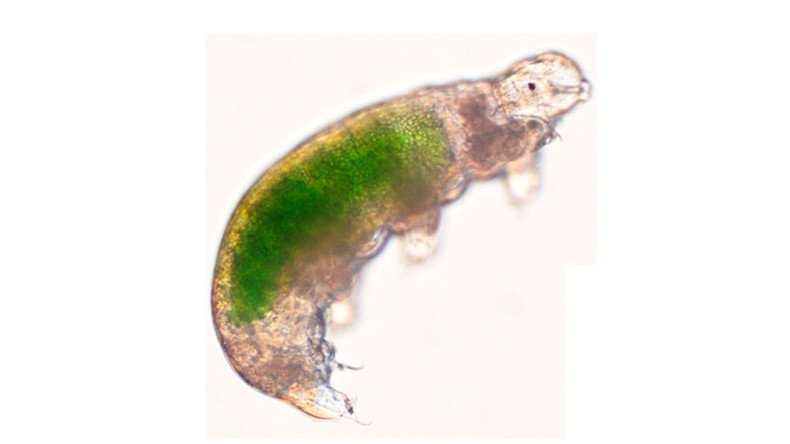 Japanese researchers have revived "water bears" microscopic animals scientifically known as tardigrades, after they were trapped in ice for over 30 years. Not only did they come alive, they also also laid over a dozen eggs that hatched healthy offspring.
These microscopic creatures – also dubbed moss piglets – were collected in Antarctica in 1983 during Japan's 24th research expedition there.
In 2014, a team at the National Institute of Polar Research in Tokyo decided to defrost samples of tardigrades that spent over three decades in the institute's freezer as a part of their long-term survival research.
"We therefore documented recovery conditions and reproduction immediately following revival of tardigrades retrieved from a frozen moss sample collected in Antarctica in 1983 and stored at −20 °C [-4 Fahrenheit] for 30.5 years," the scientists said in a paper published in ScienceDirect.
After teasing them apart with tweezers, the scientists retrieved two individual "water bears," which started moving as soon as the defrosting process was fully complete. For simplicity sake, apparently, they were nicknamed Sleeping Beauty 1, or SB-1, and Sleeping Beauty 2, or SB-2. In addition, there was also an egg extracted from the same sample.
"We recorded recovery of two individuals and development of a separate egg of the Antarctic tardigrade providing the longest records of survival for tardigrades as animals or eggs," the team explained.
It took SB-1 a little longer than a week to fully recover, indicating that these creatures do need time to recover after such a lengthy time being frozen. While SB-1 managed to return to normal and started reproducing, SB-2 did not survive. It died 20 days after defrosting because it did not eat enough (both were fed algal food).
On SB-1's 23rd day, scientists found 19 eggs that it laid. A total of 14 of them hatched healthy offspring, though it took two times longer than normal. Scientists assume that the longer hatching time is also an evidence of prolonged recovery.
As for the egg which was retrieved along with SB-1 and SB-2, it also survived and hatched six days after defrosting. Two days after, the creature laid 15 eggs, with seven of them hatching.
"This individual commenced oviposition from the age of 8 days, although the hatching success of the eggs produced was low," according to the paper.
This experiment has also set a record: These retrieved creatures have become "the longest recorded cryptobiotic duration of survival for tardigrades as animals or eggs."
The Japanese team continues its research to understand the mechanisms and conditions underlying the long-term survival of cryptobiotic organisms.
As Megumu Tsujimoto, specially appointed researcher at the National Institute of Polar Research, told local Mainichi, they are working on examining damage to the water bear's genes and its recovery functions to find out about the animals' long-term survival mechanism.
Just 1mm in size, these tiny animals live in undersea areas and mountaintops around the world. There are more than 1,000 types of water bears.
You can share this story on social media: