Sports events, concerts & flight tickets: UN panel calls for global tax to raise humanitarian funds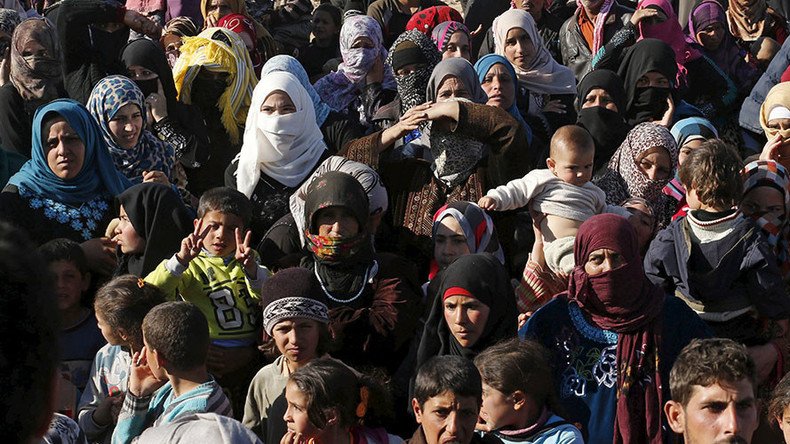 A UN-appointed panel said that traditional ways of raising money for humanitarian relief are failing. Experts suggest the problems could be addressed by looking at new sources of finance, such as taxing entertainment purchases or seeking Arab donors.
The panel of nine experts says that finding the required amounts of humanitarian aid is proving to be ever more troublesome. Despite the global economy being worth $78 trillion, a mere $24.5 billion was raised in 2014, a shortfall of a necessary 62 percent, according to the UN.
Part of the problem facing humanitarian groups looking to raise funds is that their pool of money comes from a very small percentage of people, or governments. The medical charity Medicins Sans Frontieres for example receives 89 percent of its budget from 5.7 million individual donors, the report published over the weekend stated.
Kristalina Georgieva, the European Commission vice president, who was also the co-chair of the panel said that among the ideas to increase funds were introducing micro payments on large volume transactions, such as airline tickets.
Other options included taxing entertainment purchases such as cinema tickets or taxi rides, ordered for example, via the Uber smartphone app.
"Five cents of that level of micro levy on a massive volume, we think is possible," said the former World Bank economist.
Georgieva also mentioned that the panel had been in touch with world soccer's governing body FIFA about developing a mutual understanding given soccer's popularity around the globe.
In 2014, around 42,500 people were displaced every day due to violence and conflict, while 53,000 had to leave their homes as the result of natural disasters, the report stated. It added that 90 percent of humanitarian crises are taking part in the Muslim world, while 31 out of the 33 conflicts around the globe are in Muslim-majority countries.
The panel believes that more can be done to tap into the potential of Muslim donors. The report mentions that the use of Islamic mandatory alms-giving or zakat, which is estimated by the Islamic Development Bank to be worth between $232 billion and $560 billion annually, could be used to help increase the amount of humanitarian aid given.
"We are working on some very concrete products to tap into different parts of Islamic finance," said Georgieva.
The example of an Islamic funding practice called sukuk (social impact bond) was given, which managed to raise $700 million in the space of 10 months for a global immunization scheme. It was si popular that it was 1.6 times oversubscribed, with 65 percent of donors coming from the Middle East, 18 percent from Asia, and 17 percent from Europe.
Georgieva said $3-5 billion of the $15 billion funding gap could be met by Islamic finance.
In 2014, humanitarian aid overtook peacekeeping for the first time as the UN's biggest expense, with an extra $2 billion required to help those in need.
"The most effective way to bring down the cost of humanitarian aid is to reduce the necessity to resort to it. Yet current trends reflect the exact opposite – as illustrated by the increase of people in need of humanitarian aid, and even more dramatically by the increase in the number of deaths caused by conflicts," the report stated tellingly.
The panel of experts also questioned the way that aid is delivered during humanitarian crises. The vast majority is given in necessities, such as food, tents, water and medicine. While the report says this is important, it has questioned whether it would be better to provide those caught out in humanitarian crises with cash, as this would allow them to make their own choices about their priorities.
The advancement of smartphone technology means that money transfers have become faster, more secure and more transparent. The panel of experts also believes that cash or vouchers would help women caught up in crisis situations as it would be easier for them to hide and transport, compared to large bags of rice or flour.
"Cash is more likely than in-kind to cover affected populations' prioritized needs. A 2014 study found that 70 per cent of a sample group of Syrian refugees in Iraq traded the in-kind assistance they received for cash," the report concluded.
The findings of the report were endorsed by the UN Secretary General Ban Ki-moon during a visit to the United Arab Emirates ahead of the first World Humanitarian Summit, which is set to take place in Istanbul in May. The conference will look to turn proposals into helping to raise money for humanitarian relief into meaningful goals.
You can share this story on social media: