Israeli army sweeps West Bank after 'Palestinian terrorist' stabs mother of six at settlement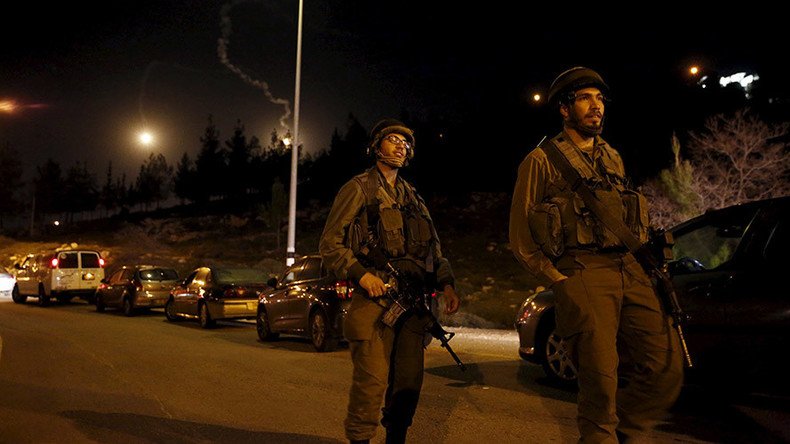 Israel's military is searching for a suspected Palestinian attacker after a 38-year-old female Israeli settler was stabbed to death while some of her six children reportedly watched. The woman was identified as Dafna Meir, an Otniel-based nurse.
While little is known about the Arab attacker, Israeli media have reported graphic details of the crime itself, saying that the woman's teenage daughter had described the attack to Israeli troops.
Meir struggled with the attacker, as he stabbed her in front of her 17-year-old daughter inside their home, The Times of Israel reported, adding that three of her six children were in the house at the time of the attack.
The Israel Defense Forces (IDF) have launched a manhunt in the area in an attempt to locate the suspect. All local residents have been asked to remain inside their homes.
"An army force is pursuing the terrorist," the IDF Spokesman's Office said.
Security forces believe the attacker could have fled to the nearby Palestinian village of Khirbet Karameh, located in the south Hebron hills. The IDF is using drones, helicopters, and dogs to help with their search.
The assailant was able to gain easy access to the house because the front door was unlocked, South Hebron Hills spokesman Assaf Fassy said. Once inside, the attacker was spotted by Meir and the three children. Two of the children fled.
One outside witness described how quickly the events unraveled.
"I sat a few dozen meters from the home. I heard a scream. I didn't understand what was happening. I saw him [the terrorist] running, within two to three seconds he was down below. At first I didn't understand what was happening … I didn't see his face at all," Haaretz cited one of Otniel's residents as saying.
READ MORE: Israeli officers disguised as Arabs burst into West Bank hospital, kill Palestinian
Israeli Prime Minister Benjamin Netanyahu offered his condolences to the family. "I want to give strength to all the children of the family. All of us are hurting and share in the painful grief. We will find the terrorist, and he will pay the full price for this heinous murder," Netanyahu said.
Meir is survived by her husband, Natan, and six children: Renana, 17, Akiva, 15, Noa, 11, Ahava, 10, Yair, 6, and Yaniv 4. The youngest two were adopted.
The brutal assault has shocked the local residents. It is the first time a suspected Arab attacker has killed someone inside a settlement since March of 2011, when five members of the Fogel family were stabbed to death in Itamar.
A medic on scene said Meir could not be save when help arrived. "We found an unconscious woman about 40 years old, who was not breathing and had no pulse. She suffered from stab wounds to her upper body," Noam Bar, a Magen David Adom medic told Haaretz.
The funeral for Meir, who has since been identified as a nurse from Soroka University Medical Center in Beersheba, will be held in Jerusalem on Monday.
Violence across Israel, Jerusalem, and the West Bank has been escalating recently, with the number of attacks on Israelis by Palestinians on the rise. This incident is just the latest in a wave of violence that began this past fall, which has claimed the lives of over 20 Israelis and at least 150 Palestinians so far.
Earlier this week, a Palestinian man tried to stab an Israeli soldier at a guard post near Nablus, a city located in the northern West Bank. A soldier shot the Palestinian dead. No one else was hurt.
Israeli police and Palestinians have frequently clashed at East Jerusalem's Al-Aqsa mosque compound. The conflict has escalated because of moves by the Israeli government which has caused Palestinians to fear that they could be banned from praying at the Al-Aqsa mosque, which is of great significance for Muslims. Under current arrangements, Jews are allowed to visit the site, but non-Muslim prayers are banned.
In October, Israel reintroduced a ban barring Muslim worshipers under 50 from entering the mosque for Friday prayers as part of broader measures focused on tightening security in the Old City.
In response to the increase in violence, in September Israeli Prime Minister Benjamin Netanyahu authorized the use of live ammunition to quell unrest, even if it was not out of self-defense.
You can share this story on social media: