Fire engulfs passenger ship 1km off NZ coast, dozens 'jump into water'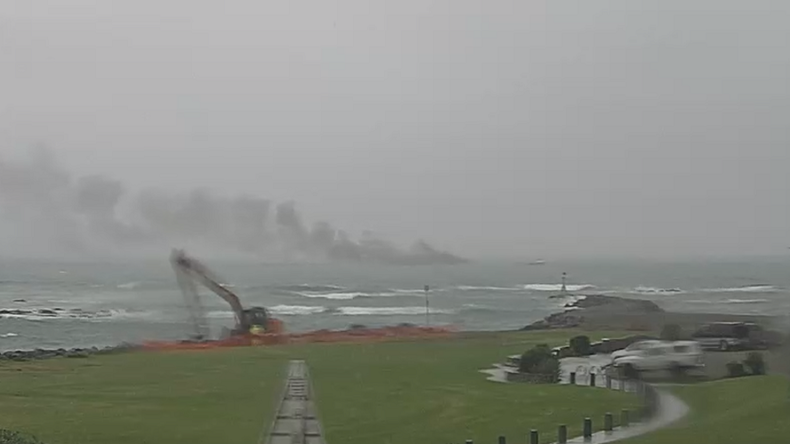 A passenger ship with some 60 people on board caught fire one kilometer off the northeastern coast of New Zealand's North Island near the town of Whakatane. Rescue teams and local boats have responded to the emergency, pulling dozens of escaping people from water.
The boat reportedly belonged to White Island Tours, according to the NZ Herald. Media reports suggested there were up to 53 passengers and 7 crew members aboard the ship at the time the fire broke out. The total number was later confirmed as 57.
All passengers and crew have been evacuated and accounted for, according to Whakatane authorities.

RadioLIVE has described chaotic scenes, with some passengers and crew jumping overboard to escape the burning vessel while small local boats hurry to save them.
Dozens of people have been pulled from the water after a tour boat caught fire off the Whakatane coast. 57 passengers and crew were on board

— RadioLIVE Newsroom (@LIVENewsDesk) January 18, 2016
At least "four or five" people have been taken to a local hospital, the radio reported.
Coast Guard and emergency services rushed to the coast of Whakatane after police received a call reporting the situation at around 3:45 pm local time (2:45 am GMT).
Some passengers were reportedly evacuated to another smaller tour vessel, while several boats could also be seen sailing to the shore on a live stream put up by the local Coastguard website.
The cause of the fire was not immediately clear.
A crowd of onlookers gathered on the shore, with some witnesses saying they could see people on the bow of the burning vessel. Katee Shanks, a reporter for Rotorua Daily Post, described the situation as "awful, the flames are huge and are taking over the ship."
You can share this story on social media: