40 migrants arrested as 300 police raid Dusseldorf 'Maghreb' neighborhood (VIDEO&PHOTOS)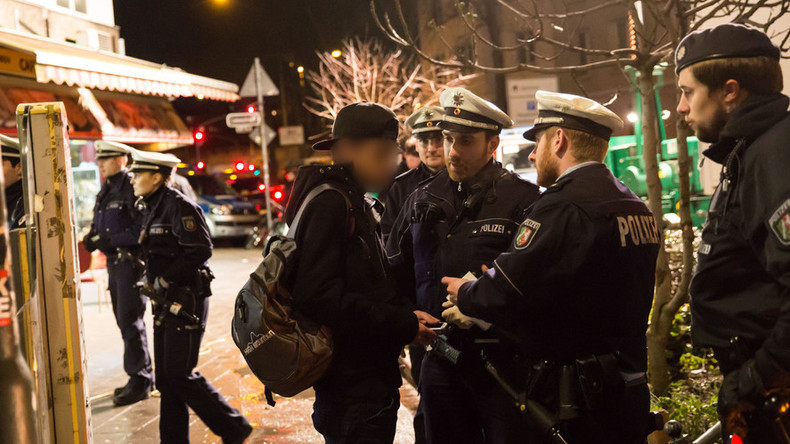 About 300 German police officers have conducted a mass raid on a neighborhood known as a North African ghetto in Dusseldorf, West Germany. Around 300 migrants were checked, 40 of whom were arrested.
Dusseldorf police and federal security services launched the raid on the so-called Maghreb neighborhood near the Dusseldorf railway station on Saturday evening. The operation called Casablanca involved about 300 police officers and lasted for about six hours, according to Der Spiegel.
The officers cordoned off and searched 18 restaurants and eateries around the railway station of the capital of North Rhine Westphalia looking for people suspected of pick-pocketing, robbery, and drug dealing. Police also took some people from their houses for questioning in a specially erected tent.
Forty migrants were arrested during the raid, of whom 38 had problems with stay permits and one was accused of receiving stolen goods. Another has already been required to leave the country, Bild informs.
Police are also preparing seven criminal reports on drug storage and another on theft, fraud, and a possible violation of gun-control legislation. In addition, the officers found seven stolen mobile phones, but have failed to establish their owners.
The Dusseldorf "Maghreb neighborhood" has a poor reputation, as it is a shelter for many gangs, mostly consisting of North African migrants, which are said to be responsible for about 2,200 thefts in Dusseldorf, according to police data, Bild reports.
North Rhine Westphalia police came under fire earlier this month over their handling of hundreds cases of sexual harassment and robbery committed by migrants and refugees near the Cologne railway station on New Year's Eve. They claim, however, that the raid had been planned before the incident in Cologne.
You can share this story on social media: