Papa John's in hot water over 'Stalin' pizza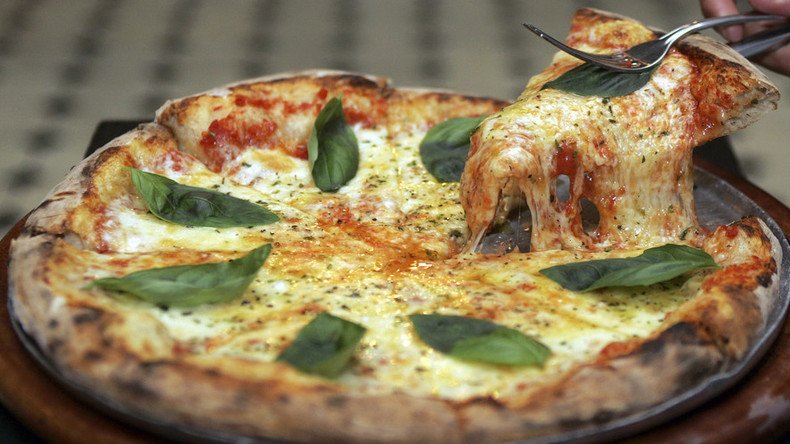 The Russian branch of the Papa John's pizza chain is under fire due to a special offer promoting the World of Tanks video game. Customers were asked to name the person a WW2-era Soviet tank was named after. Spoiler: the answer is Joseph Stalin.
Those who want a free pizza have to guess the name of the person (and the tank) and put it in a special box in the order form on Papa John's website. The special, which started January 4, was noticed by the editor-in-chief of Dozhd TV's website, Ilia Klishin. He was outraged to learn that the answer to this question was Joseph Stalin.
"Papa John's pizzeria has introduced a promotional code JOSEPHSTALIN. They offer a Hawaiian or a pepperoni for the dictator's name. Seriously. I'm not kidding. My grandfather Aleksey Somov was repressed with his only fault being an engineer and building an electric mill (which was ruled 'excessively bourgeois' and demolished), so I send my best regards to these sick bastards," Klishin wrote on his Facebook page.
Пиццерия Папа Джонс ввела промокод ИОСИФСТАЛИН. Дарит за имя диктатора гавайскую пиццу или пепперони. Серьезно. Я не шуч...

Опубликовано Ilya Klishin 16 января 2016 г.
Some Facebook users have taken a lighter approach to the issue, even suggesting new promo codes such as AdolfHitler or AbuBakrAlBaghdadi. Others, however, told stories about their relatives, repressed by Stalin's regime. Some of them even posted in Papa John's social media pages to let the pizzeria's marketing staff know of their displeasure.
"Such a shame. My family used to order pizza from them. Now to commemorate my two granddads who I've never met because of the damned mustached [dictator] I will forget there is such a pizza house. Don't enjoy your meal!" wrote Tatiana Sabina.
The pizza chain staff apologized to anyone whose feelings were hurt because of the World of Tanks special. Papa John's Facebook page claims that the promo was only meant to quiz people's knowledge, rather than to popularize the dictator.
"Papa John's pizza chain sincerely apologizes to anyone whose feelings were hurt by the 'josephstalin' promotional code… Papa John's did not under any circumstance intend to reconsider or give a personal assessment of Joseph Stalin's record – we always try to stay out of politics. Unluckily, we failed to do so this time," the company statement says.
Сеть пиццерий «Папа Джонс» приносит свои искренние извинения каждому, чьи чувства оскорбил промокод «иосифсталин», котор...

Опубликовано Papa John's Pizza 16 января 2016 г.
Klishin said he accepted Papa John's apology and that he didn't hold any grudge against the pizzeria.
World of Tanks developers denied to RT that they had any involvement in the "Stalin pizza" incident.
"Wargaming company has no relation to this offer," Wargaming PR manager Maksim Koltonyuk told RT. "We don't have any joint activities with Papa John's chain and we don't plan to. Moreover, the use of World of Tanks game name hasn't been approved by us. We are investigating the current situation."
You can share this story on social media: