Norway to stop sending refugees back to Arctic Russia on bikes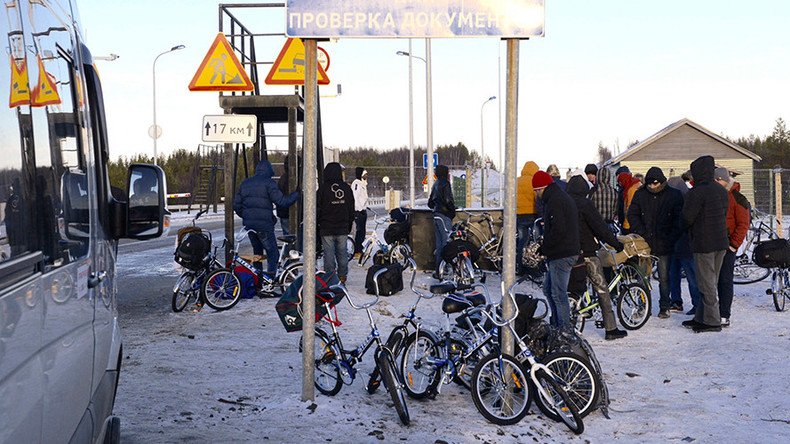 Norway will allow migrants and refugees that entered the northern European country on bicycles to return to Arctic Russia on buses. Immigration authorities had previously sent them back the way they came.
"Russian authorities recently confirmed that foreign citizens with permanent residency or a multiple-entry visa can be sent back by bus," Norwegian police said in a statement, as cited by AFP.
The agreement was reached a day after Norwegian police ordered that newcomers be sent back on the bicycles they had used to enter Norway, which were abandoned at the Storskog border crossing about two hours' drive from Russia's Arctic City of Murmansk.
"We asked that they bikes that were left behind or claimed by the police be gathered up for use by the foreigners who will be returned to Russia," said Jan Erik Thomassen, a Police Directorate section head. "I can understand that it feels a bit awkward and odd," he added.
Migrants and refugees cannot cross the only border station between Russia and Norway in buses, cars, or trucks, as Norway would regard the drivers as human traffickers. Nor can they enter Norway on foot, as this is prohibited by the Russian authorities. Thus, bikes are the only legal means of transport left to asylum seekers who want to cross the border.
The police initiative to send refugees and migrants back on bicycles sparked criticism of some NGOs, as well as politicians, because the temperature in the region often falls to -20°C in winter, making journeys on bikes dangerous.
Last year about 5,500 migrants and refugees – primarily Syrians who had entered Russia by plane – crossed into Norway at the Storskog border crossing, which lies hundreds of kilometers north of the Arctic Circle. Norway wants to send them all back to Russia, which only accepts those with permanent residency or a multiple-entry visas.
You can share this story on social media: