First in space: Russian animated film 'We Can't Live Without Cosmos' gets Oscar nod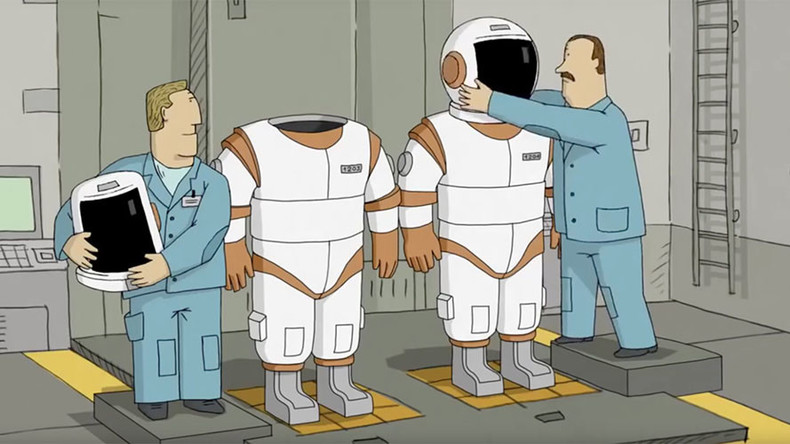 Russian animated film "We Can't Live Without Cosmos" has been shortlisted for an Academy Award. The film revolves around two male friends ready to face all the challenges that come their way in order to achieve a childhood dream of going to space.
It's not the first Academy Award nomination for Konstantin Bronzit, a St. Petersburg-based director. The 50-year-old was also nominated for an Oscar in 2009 with his tour de force "Lavatory-Lovestory," but lost out to Japan's Kunio Kato, who took home the coveted award for his short film "La Maison en Petits Cubes."
"How can one know there's a nomination coming? It's a game! It's like flipping a coin - heads or tails. Of course, there were some chances. I even think the odds were greater than back in 2009," Bronzit told Russia's Metro daily.
"The very nomination is some sort of a lifetime membership. What counts most for me is that it's the second Academy nod. Any success is a lucky coincidence, of course. But the second nomination dismisses all the questions. Like they say in sports, 'stability is an indicator of class.' I was sort of competing against myself. That's why this nomination is so dear to me," he said.
"We Can't Live Without Cosmos" has already scooped a number of awards on the festival circuit, including last year's short film grand prize at the Annecy International Animated Film Festival. It has added to this by now achieving the accolade of being shortlisted for an Academy Award in the Best Animated Short Film category.
The Russian film is in the running with "Bear Story" (Chile), "Sanjay's Super Team" (USA), "World of Tomorrow" (USA) and "Prologue" (Canada, UK).
"If we trace back Oscar nominations in this category over the past few years, we'll see that there wasn't a single year when Disney or Pixar [studios] were left unrepresented. They have a quota of one slot. Not because the game is not fair. It's all fair. It's just that the vast majority of academics in this category are employees of Pixar and Disney. That's why they are voting for their own [candidates]. That's why I consider 'Sanjay's Super Team' to be a strong competitor and am scared of it, even though the quality of the film isn't to my taste."
Bronzit has been a member of the Academy of Motion Picture Arts and Sciences, the group that votes on the Academy Awards, since 2009, and knows the nuts and bolts of the system.
"The Academy calls on its members not to vote in nominations where they haven't watched all other contestants," he says.
Any member can vote in favor of him/herself, however.
"It's not prohibited. But doesn't guarantee victory, as there're 6,000 other Academy members who have their say too," Bronzit said, adding that he gave himself 9 points out of 10, because he doesn't consider his work "flawless."
"I didn't give 10 to anyone," he noted.
READ MORE: Russian 'Leviathan' wins Golden Globe for best foreign language film

The Russian director said it is a myth that if a film gets long-listed for an Oscar, it automatically means it's a masterpiece. "Nothing of the kind! There were so many blatantly weak works! I was stunned. We were asked not to give anyone less than a 6-mark, but I felt like giving many "2" at best."
The 88th Annual Academy Awards will be held at the Dolby Theatre in Hollywood on February 28.
You can share this story on social media: