'Starvation as a weapon is a war crime': UN head blasts warring sides in Syria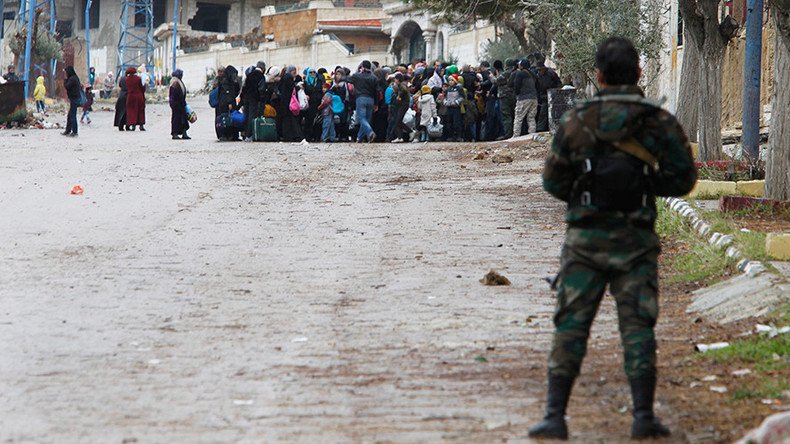 UN Secretary-General Ban Ki- moon has slammed all sides of the Syrian conflict for the humanitarian crisis in besieged Madaya, saying its scenes "haunt the soul," while pointing out that the use of starvation as a weapon amounts to a war crime.
The images of starving people in Madaya represent a new low in the Syrian civil war, which has already exhibited "shocking depths of inhumanity," Ban said.

"Scenes that haunt the soul" were witnessed by UN staff, which on Monday finally managed to deliver humanitarian aid to Madaya and two other Shia villages in southern Syria for the first time in months, Ban said.
"The elderly and children, men and women, who were little more than skin and bones: gaunt, severely malnourished, so weak they could barely walk, and utterly desperate for the slightest morsel," he said.

According to the Secretary-General, 400 people in Madaya were in such life-threatening condition and require immediate medical attention.
Madaya is under siege by pro-government forces and the two villages in Idlib province remain blocked by the rebels.
They received their first shipment of aid from a convoy on Monday, with more supplies arriving in both areas on Thursday.

"Let me be clear: the use of starvation as a weapon of war is a war crime. I would say they are being held hostage, but it is even worse. Hostages get fed," Ban said.

RT's Murad Gadziev, who was one of the few foreign journalists to arrive in Madaya, said that, according to the locals, Islamic State (IS, formerly ISIS/ISIL) militants were fighting within the city together with the opposition forces.

The rebels in control of the town were also selling food at inflated prices, charging up to $250 for a kilogram of rice, they said.
Some 400,000 people in Syria are besieged, over half of which are in areas controlled by IS, Ban said.

"In 2014, the UN and partners were able to deliver food to about 5 percent of people in besieged areas. Today, we are reaching less than 1 per cent. This is utterly unconscionable," the he added.

READ MORE: First aid convoys enter besieged Syrian town of Madaya
Ban urged regional powers and key international players to put pressure on the warring sides to provide sustained and unimpeded humanitarian access.
You can share this story on social media: