Syrian jets provide cover for Russian bombers in first joint anti-ISIS raid (VIDEO)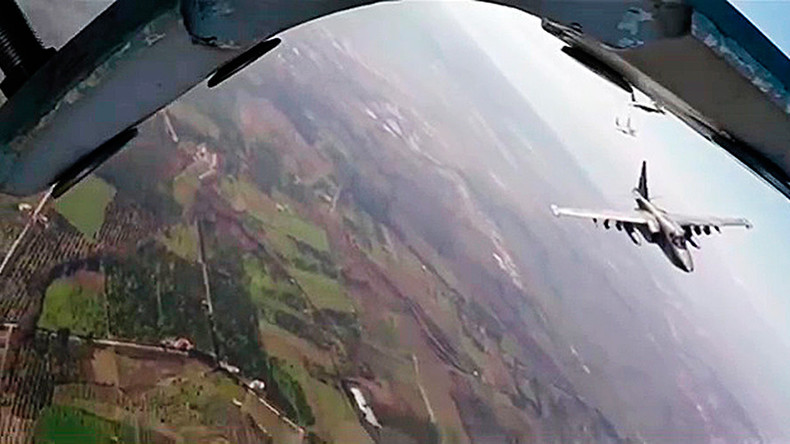 Syrian fighter jets have accompanied Russian bombers as they conducted airstrikes against the terrorist targets in Syria, Russia's Ministry of Defense said, adding that it was the first joint operation of the air forces.
"The crews of the Russian Su-25 warplanes and the Syrian MiG-29s have accomplished a joint combat mission in the Syrian skies," a statement by the ministry said on Thursday.
"A pair of MiG-29 fighter jets provided cover in the air to Russian attack planes, which conducted airstrike against the terrorist infrastructure of terrorists," it added.
According to the ministry, the Syrian fighter jets met up in the skies with Russian warplanes, taking off from Khmeimim air base, and "provided support and cover for Russian attack aircraft throughout the whole flight to the area where the airstrikes were carried out and back."
Syrian pilots have recently visited the Russian base in Latakia to discuss the specifics of radio exchange during combat missions with their Russian colleagues.
Russian bombers began using cover from fighter jets during their missions in Syria after the downing a Su-24 by the Turkey on November 24.
Khmeimim airbase accommodates Russian Air Force squadrons of Su-27 and Su-30 fighter jets, Su-34 and Su-24 tactical bombers, Su-25 attack aircrafts, which are taking part in airstrikes on Islamic State ( IS, former ISIS, ISIL) and other terrorist groups in the country.
Moscow launched its operation in Syria, which also includes the navy and long-range aviation, on September 30 after the request of Syrian President Bashar Assad.
Russia is allowed to deploy its air force in Syria for an open-ended period, RIA-Noviosti reported on Thursday after obtaining the text of the agreement, signed between Moscow and Damascus in August.
Meanwhile, Turkey stepped up its grown operations against Islamic State in Syria and Iraq as a response to a jihadist suicide bombing in Istanbul which killed 10 German tourists on Tuesday.
"After the heinous attack in Istanbul, our armed forces hit in the last 48 hours some 500 positions of Daesh (Arabic acronym for IS) in Syria and Iraq with artillery and tank fire," Ahmet Davutoglu, Turkish Prime Minister, was cited by AFP as saying.
According to the PM, around 200 IS militants were killed by the Turkish military in two days.
"Every attack that targets Turkey's guests will be punished," he added.
Despite being a part off the US-led anti-terrorist coalition, Turkey has been criticized for its unwillingness to act against IS, with Russia blaming Ankara for being involved in illegal oil trade with the terrorists.
You can share this story on social media: