MPs from Merkel's party sign petition to end open-door migrant policy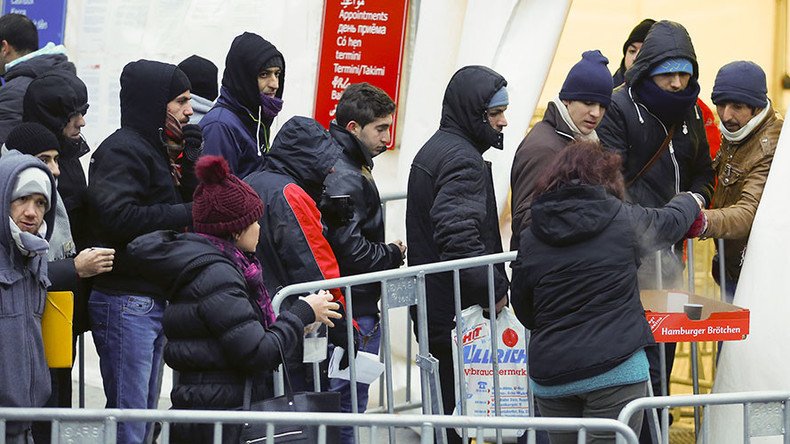 Angela Merkel's center-right Christian Democratic Union party has signed a petition which effectively demands a ban on most refugees entering Germany. The move was sparked by the Cologne New Year sex assaults, over which hundreds of women filed complaints.
The petition has been approved by 40 MPs, according to the German newspaper Bild.
"If so many of our party speak out in favor of partial refusal at the border, we should all be able to vote on it," Christian von Stetten, one of the MPs, told Bild.
The final call for a vote is reported to be set for the next party meeting on January 26.
The petition seeks to ban the entrance of refugees "who wish to enter Germany illegally via a safe third country," and sets as its justification the Dublin III Regulation policy, an EU law adopted in 2013 under which refugees must claim asylum in the first country they arrive at.
As most refugees arriving in Germany do so through a third country, the new rule would relate to almost all of them, thus excluding most migrants from arriving on German soil.
German authorities have already rejected the entrance of hundreds of refugees who wish to travel through the country to seek asylum in other EU states.
Peter Tauber, the Christian Democratic Union party's general secretary, called for the deportation of those migrants whose entry has been banned.
"If one in two asylum claims is rejected on average, then the states have a duty to deport 1,000 rejected asylum seekers a day," Tauber told the Rheinische Post newspaper.
"Hundreds of thousands accept the help gratefully, learn German and want to integrate. For those who don't take that opportunity, the message is: 'You can't stay here'," he said.
The New Year's Eve mass sex assaults in Cologne, in which most of the suspects were reported to have been of a foreign origin, triggered a number of demonstrations, with protesters blaming the current no-limit refugee policy for the incidents and calling for Merkel's resignation.
The chancellor gave a speech last month in which she stated that the open-door policy was a temporary measure, promising to level off the number of incoming migrants.
Germany remains one of the top destinations among migrants. More than a million refugees arrived in the country last year.
You can share this story on social media: