Hitchin' a ride: Snowboarder pulled by car shows off tricks in icy St. Petersburg (VIDEO)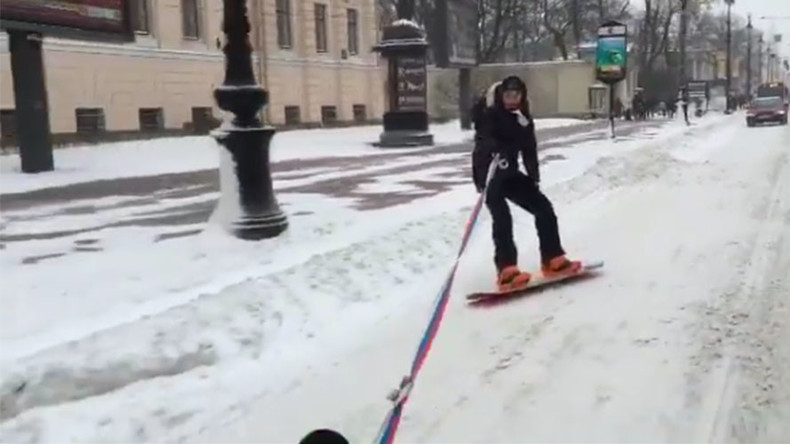 A 21-year-old daredevil was fined for traffic violations after shooting a video in St. Petersburg where he shows off his snowboard tricks while attached to a moving car.
Student Kolya Smirnov posted the video on his Instagram account, saying it was his second attempt at riding a snowboard smack in the center of Russia's second largest city.
Temperatures have dropped below -20C (-4F) in St. Petersburg in the past few days and there has been heavy snowfall.
Deciding these were ideal conditions, the young man decided to take advantage of the weather and pull off a few tricks.
"Ripping snowy St. Pete's to pieces," he captioned the video.
Extreme sports lovers frequent the city streets when the weather is right - much to the delight of internet users worldwide.
Wakeboarding, snowboarding's summer alternative, earlier made a roaring appearance in a video where several young men showed off a similar stunt – except on water, not snow - in flooded Vladivostok in Russia's far east.
Both Smirnov and the driver that pulled him through the snowy streets were identified via security cameras and were fined by the police.
You can share this story on social media: