UN peacekeepers in CAR accused of paying underaged girls for sex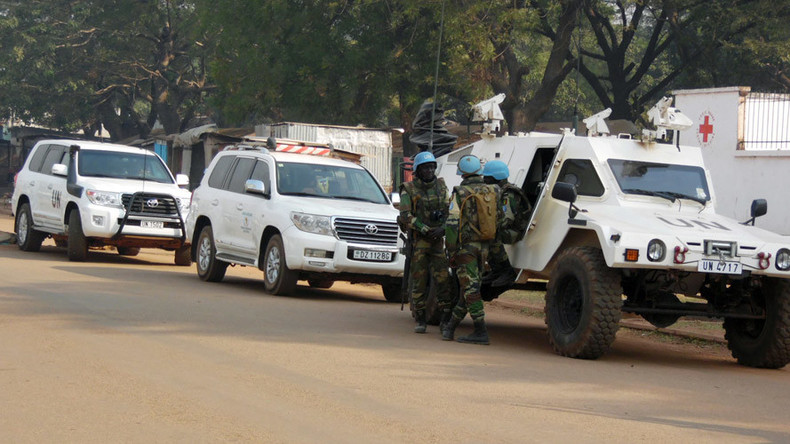 United Nations peacekeepers in Central African Republic (CAR) are accused of having paid sex with girls of under 13 years at a refugee camp, an internal UN investigation has revealed. The pay at times was "as little as 50 cents."
At least four peacekeepers are accused of having sex with under aged prostitutes at the M'Poko camp near the international airport in CAR's capital, Bangui, the Washington Post reported.
The girls were offered to the troops "for anywhere from 50 cents to three dollars," an unnamed UN official told the paper.
The nationalities of the accused peacekeepers weren't official released by the UN, but according to the Washington Post's sources, they came from France, Gabon, Morocco and Burundi.
According to some officials, many more cases of sexual exploitation by peacekeepers at the camp have gone unreported.
"The M'Poko camp is unfortunately a place where horrible, unacceptable things happen to women and children," Anthony Banbury, UN assistant secretary-general for field support, told the paper.
"In some cases we have credible allegations that there are UN personnel that have committed these crimes," he added.
The abuse by the peacekeepers abuse "undermines everything" the United Nations organization stands for, Banbury said.
The number of UN patrols at the M'Poko camp ‒ which hosts 20,000 mainly Christian refugees ‒ will be increased in order to curb the prostitution ring, he added.
The UN mission in the Central African Republic began in 2014 to help end a civil war in the country, but has been marred by numerous sexual assault allegations.
Along with the fresh accusations, the UN mission's employees in CAR have been accused of 22 other incidents of sexual abuse or sexual exploitation in the past 14 months.
A UN special representative to the country, former Senegalese General Babacar Gaye, was fired and an internal investigation was triggered due to two incidents last August: Two women and one girl blamed three UN peacekeepers of rape in the town of Bambari, while a 12-year-old girl claimed to have been forced to have sex by a UN police officer.
READ MORE: UN probes alleged CAR child abuse by peacekeepers
Before the formal beginning of the UN mission to CAR, 14 troops from France, Chad and Equatorial Guinea were accused of raping and sodomizing six boys between between 9 and 15 years of age in 2013 and 2014.
UN peacekeepers were also involved in sex crimes in other African nations, including
Mali, South Sudan, Liberia and the Democratic Republic of Congo.
UN Secretary-General Ban Ki Moon has recently slammed sexual abuse accusations as "a cancer in our system" and implemented a "zero tolerance" policy for such types of offenses.
You can share this story on social media: