Cancer-detecting breath sensor may become available in 7 years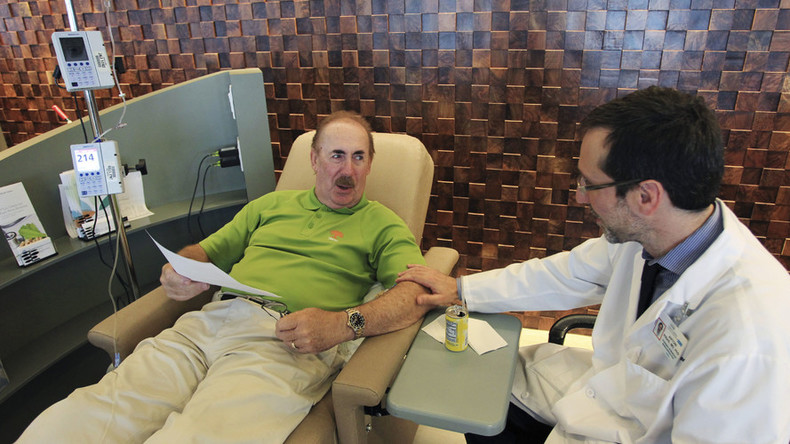 The Japanese have developed a sensor which can detect cancer from a person's breath and send all the data to a smartphone, making self-checks possible. The invention could cause a revolution in cancer treatment, where early detection is crucial.
The high precision sensor has recently been developed by scientists from the National Institute for Materials Science (NIMS), who have been working with Kyocera Corp., NEC Corp., Sumitomo Seika Chemicals Co., Osaka University and a Swiss equipment maker, according to the Yomiuri Shimbun.
A tiny chip installed in the small device will be able to detect whether substances associated with cancer are present in a person's breath. The device will even likely be able to warn the person about which type of cancer the patient has, according to NIMS.
The result will be displayed on a smartphone via an app or on the screen of other device with which the sensor is paired.
Scientists say that time is needed to collect all the odors associated with different illnesses. The revolutionary self-check equipment is reportedly expected to be available to general public as early as 2022.
According to local media the device will cost a few hundred dollars and could be easily produced in large quantities.
Over 8.2 million people die from cancer around the world each year, and the hard-to-diagnose illness is often detected at an inoperable state, according to the World Health Organization (WHO).
Earlier scientists have established that different illnesses have certain odors that can help identify them. For example, tumors generate very low concentrations of the alkanes and aromatic compounds that can be detected via urine or breath.
Last February, an Israeli-led consortium received a €6 million (US$6.5 million) grant from the European Commission to develop a phone attachment that can tell if you have cancer just from your breath.
In 1989, doctors at King's College Hospital in London wrote in the Lancet about a woman whose dog "sniffed out" her early-stage malignant melanoma. Since then, various studies have proven that dogs can be trained and used to detect cancer correctly most of the time.
You can share this story on social media: