West's airstrikes cost 'billions' to Syria economy – Damascus' UN envoy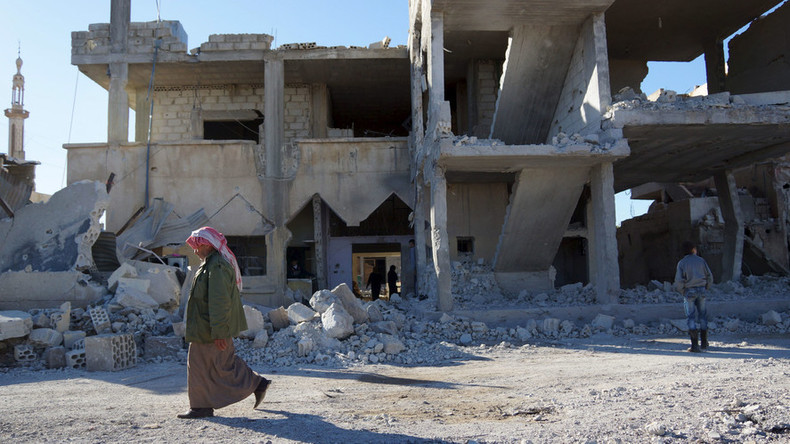 Bombing raids in Syria by the US-led coalition target civilian and industrial infrastructure worth billions of dollars, while Western airstrikes aim to exhaust the "capacities of the people" and halt post-war reconstruction, Syria's envoy to the UN says.
"Those attacks aim at devastating capacities of the Syrian people and complicate development and reconstruction of the country," Bashar Ja'afari was quoted as saying by TASS on Tuesday.
The Western coalition's air raids are hitting facilities critical for ordinary Syrians to survive, he stressed, mentioning recent bombing of water tower facility in the province of Raqqa that deprived people of an access to pure water in surrounding villages and towns. In October 2015, the coalition's warplanes bombed Radwaniyah area outside Aleppo, severely damaging two power plants, with the damage estimated at €1.2 billion, Ja'afari added.
Except the civilian infrastructure, Ja'afari stressed, Syria's oil and gas industries are also targeted. In early January the coalition bombed and hit oil refineries 80km away from Raqqa, he said.
Syrian oil is also being stolen by Islamic State (IS, formerly ISIS) and "delivered to Turkey's refineries owned by the son of [Turkish President] Erdogan, then to Turkish port of Jeyhan, and then to Israel," the envoy told journalists. "It's quite a profitable business." Purchasing oil from terrorist groups is prohibited by the UN Security Council's resolutions, Ja'afari reiterated.
He went on to address humanitarian situation in a town of Madaya where inhabitants are said to be dying of starvation. He dismissed the Western accusations Damascus is hampering deliveries of aid as having been falsified to undermine the Geneva peace talks, according to TASS.
"Every time when a step forward is made towards political reconciliation in Syria, information on certain incidents is fabricated to slander the Syrian government and negatively impact the political process," he said.
The bloody conflict has been ongoing in Syria since 2011, claiming the lives of some 220,000 Syrians while around 12 million people are in constant humanitarian need, according to the latest UN Human Rights Office's estimates. Some 7,632,500 Syrians have been internally displaced, with 4,194,554 seeking refuge outside the country.
You can share this story on social media: