Russia supports both Assad troops and rebels in battle against ISIS – Putin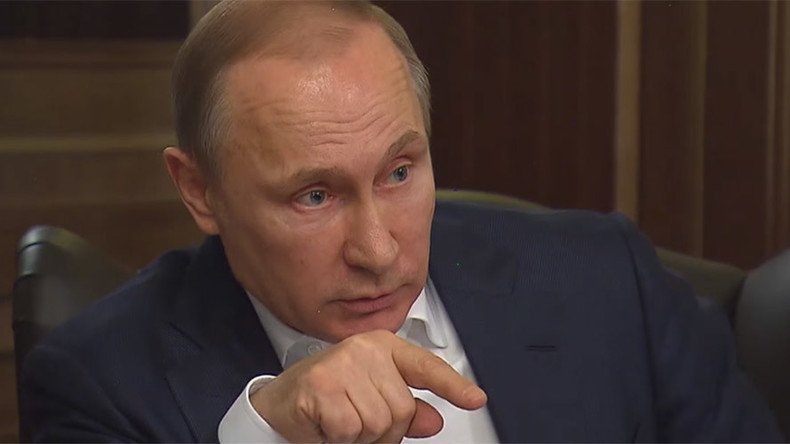 Russia supports Syrian President Bashar Assad's forces and will back anti-Assad rebels as long as they are fighting Islamic State, President Vladimir Putin told Germany's Bild, countering claims that Moscow only backs the regime rather than hitting jihadists.
"We support both Assad's army and the armed opposition," Putin said in a lengthy recent interview to the newspaper, now published in full. "Some of them have publicly declared this, others prefer to remain silent, but the work is ongoing."
According to the president, "This is hundreds, thousands of armed people fighting Islamic State [IS, previously ISIS/ISIL]."
"We are coordinating our joint operations with them and support their offensives by airstrikes in various sections of the front line," Putin said.
The Western media has repeatedly criticized Russia over its airstrikes in Syria, claiming they only support the Assad regime and allegedly focus on hitting the Syrian opposition rather than IS.
"They are telling lies," Putin reacted, when asked about the allegations. Despite the existence of evidence showing the facts on the ground, Russia's critics "prefer to ignore it."
"Look, the videos that support this version appeared before our pilots even started to carry out strikes against terrorists. This can be corroborated," the president said.
By contrast, Putin brought up the deadly US airstrike on a hospital that killed over 20 people in northern Afghanistan in October and the following lack of mainstream media attention.
"American pilots hit the Doctors Without Borders hospital in Kunduz, Afghanistan, by mistake, I am sure," he said. "Western media outlets have attempted to hush this up, to drop the subject and have a very short memory span when it comes to such things. They mentioned it a couple of times and put it on ice." On the contrary, "this phony evidence" about Russian pilots allegedly targeting civilian targets "keeps circulating," Putin added.
"If we tag the 'live pipelines' that consist of thousands of petrol and oil tankers as civilian targets, then, indeed, one might believe that our pilots are bombing these targets, but everyone is bombing them, including the Americans, the French and everyone else," he said.
Explaining Russia's goals in the conflict, Putin reiterated that the main concern is to avoid the creation of a complete power vacuum in Syria, leading to the devastation of the country, as happened in post-Gaddafi Libya.
"I can tell you precisely what we do not want to happen: we do not want the Libyan or Iraqi scenario to be repeated in Syria," he said.
In order to avoid such a turn of events, Syria should restructure its government, basing it on a new constitution, the Russian president said.
"This is the only way to achieve stability and security, to create conditions for economic growth and prosperity, so that people can live in their own homes, in their homeland, rather than flee to Europe," Putin added.
Putin reiterated that the Syrian people should decide their own country's future, regardless of whether Assad stays in his post.
"I assure you, if this process is conducted democratically, then Assad will probably not need to leave the country at all," Putin said.
When asked if he would grant Assad asylum in Russia if he was forced to leave Syria, the President said it was "premature" to speculate about that.
"We granted asylum to Mr. Snowden, which was far more difficult than to do the same for Mr. Assad," he added.
On Russia's global ambitions: 'We do not claim the role of a superpower'
Putin also responded to questions regarding Russia's position on the global stage. He disagreed with US President Obama's labeling of Russia as "a regional power," but added that Moscow is not striving to become a "superpower."
"We do not claim the role of a superpower. This role is very costly and it is meaningless," Putin said, pointing out that, in fact, the Russian economy occupies "roughly the sixth place in the world."
Speaking at a nuclear summit at Dutch capital The Hague in March 2015, Obama referred to Russia as a "regional power that is threatening some of its immediate neighbors."
While admitting that everyone is entitled to their own opinion, Putin said that Obama's remark was quite vague.
"If we say that Russia is a regional power, we should first determine what region we are referring to," he said pointing out Russia's vast geographical territory, which stretches from Europe, China and Japan to the maritime borders with Alaska in the US and "Canada across the Arctic Ocean."
"I think that speculation about other countries, an attempt to speak disrespectfully about other countries, is an attempt to prove one's exceptionalism by contrast. In my view, that is a misguided position," Putin said.
On Russia-NATO tension: 'If we're not welcome, that's fine with us'
The interview also touched upon prospects for the renewal of Russia's cooperation with the G8 and NATO. Both groups cut ties with Russia amid the ongoing conflict in Ukraine.
"It was not Russia that cut off cooperation through the G8 or the Russia-NATO Council. We are willing to interact with everyone, once there is a matter for common discussion," Putin said.
Yet, Russia will not go out of its way to be accepted back into these forums, he added, instead advocating a happy relationship "when the feeling is mutual."
"If we are not welcomed as partners, that's fine with us then," the president said.
Russia-NATO ties worsened following Turkey's downing of Russia's Su-24 jet and the killing of its pilot by Ankara-backed Turkmen rebels on November 24. Shortly after the attack, Ankara called an emergency NATO meeting.
"Instead of trying to provide us with an explanation for the war crime they committed, that is, for downing our fighter jet that was targeting terrorists, the Turkish government rushed to NATO headquarters seeking protection, which looks quite odd and, in my view, humiliating for Turkey," Putin said.
He expressed the hope that "such incidents" would not trigger "large-scale hostilities," but insisted that Russia "would defend its security interests by all available means at its disposal" should it be threatened.
Putin's comments were published as the second part of a wide-ranging interview to Bild, the mass-circulation German newspaper, conducted on January 5 at his residence in Sochi.
You can share this story on social media: