4,000 freshly-printed copies of Hitler's Mein Kampf sell out in Germany within a week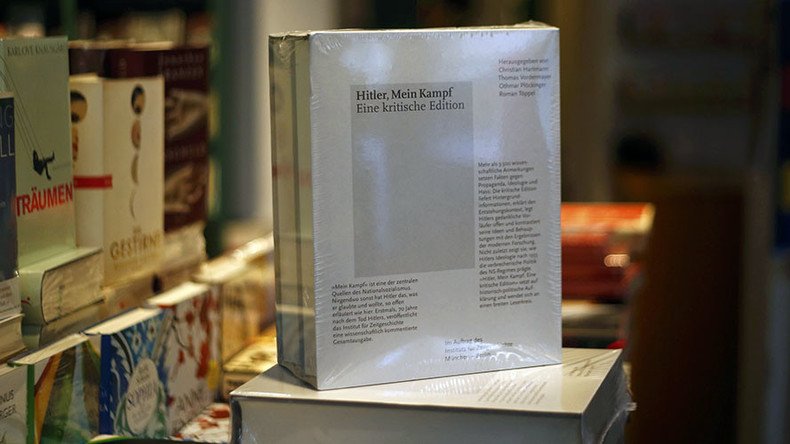 Hitler's inflammatory book, Mein Kampf, is back in German stores for the first time in 70 years, and sales across the country skyrocketed within a week - with 15,000 advance orders placed for an initial print run of just 4,000 copies.
The new, heavily annotated German edition of the book sold out in just a week, despite a price tag of €59 (US$64) for a print copy. Copies of the new edition have also been put on re-sale on the German Amazon website for €385, over six times the publisher's price.
With demand for copies far exceeding supply, more than 15,000 advance orders have been made – nearly four times the initial print run of 4,000 copies. The publisher, the Munich-based Institute for Contemporary History, has also received requests to translate the edition into Italian, French and English.
The inflammatory book by the Nazi leader – which outlines strategies to exterminate entire peoples, and also Hitler's attitude towards the so-called "Jewish issue" – was considered a failure when it was first released in two volumes in 1925 and 1926. However, it went on to sell around 5.2 million copies between the Nazis' power grab in 1933 and the outbreak of the Second World War in 1939.
Mein Kampf was forbidden after the war, with the government of Bavaria holding the 70-year-long copyright that expired on January 1, 2016.
Dr Christian Hartmann, who led the team of academics working on the new edition, said if anyone was to reproduce the book, it was better to have an edition that challenges the lies it contains.
He told the Times: "It was important to us to reach many people so we have tried to create a very reader-friendly edition."
Even before Hitler's diatribe hit the bookstores, the German Teacher's Association proposed that the Nazi manifesto be taught in high schools to help "immunize" youngsters against far-right ideologies. The heads of the association said Mein Kampf is better taught as a revised edition by "professionally trained politics teachers," rather than being accessed by youngsters on the web without any guidance.
However, many in Germany believe the book should not be published. A recent poll released by YouGov suggested two out of five Germans are concerned that reprinting Mein Kampf could serve to bolster the rise of the far-right in the country.
You can share this story on social media: