Over 160 civilians, incl. unborn child, killed in Turkish crackdown on Kurds – report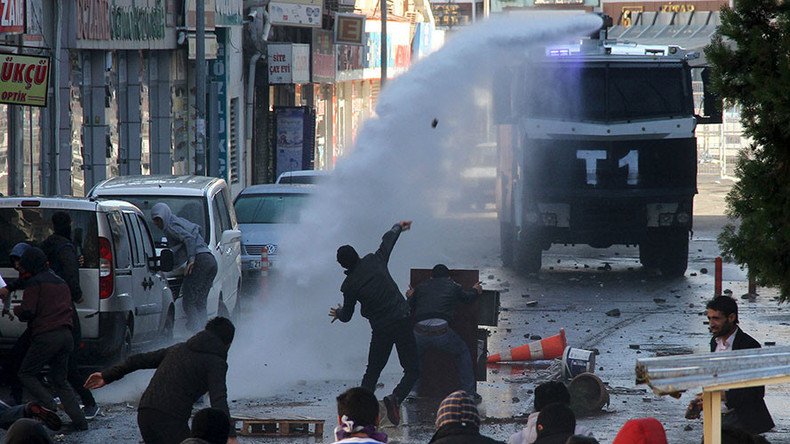 In five months of battling the Kurdish insurgency in southeastern Turkey, Ankara has killed over 160 civilians, according to a rights group report. Among them was an unborn child, whose mother was shot.
In August, Ankara launched a ground operation to crack down on Kurdish fighters linked to the Kurdistan Workers' Party (PKK). The violence ended a two-year truce with the Kurdish militants, who have been fighting a guerrilla war for independence for decades. An estimated 10,000 Turkish troops armed with heavy weapons and armored vehicles, including tanks, were deployed.
Since August 16, Turkish troops have imposed at least 58 curfews in Kurdish regions, disrupting the lives of some 1.4 million people living in the affected provinces, Human Rights Foundation of Turkey (HRFT) said. Some lasted 10 hours or less, but others went on for days and weeks, and some are still ongoing. The curfews affected 19 districts in the provinces of Batman, Diyarbakır, Elazıg, Hakkari, Mardin, Mus and Sırnak.
While the curfews have been in place, at least 162 civilians have been killed. The death toll includes 29 women, 32 children, and 24 elderly people. One of the victims in the city of Cizre in Sırnak Province was an unborn child, who was killed by a gunshot to his mother's womb, the group said. The mother, Guler Yanalak, was seven month's pregnant at the time and reportedly survived the injury.
The HRFT said at least 22 people were killed in their homes, some of them from heavy weapons used by the fighting sides. Four people were reported to have been killed in areas where no curfews had been declared. The violence against civilians appears to have escalated since December 11, the group said, with 79 civilian deaths reported since then.
The PKK, founded in 1978, has been fighting the Turkish state for Kurdish self-determination since 1984. Kurds make up between 10 percent and 25 percent of Turkey's population. In late December, a congress of Kurdish non-governmental organizations called for Turkey's southeastern regions to be granted autonomy via constitutional reforms.
READ MORE: Turkish Kurds demand autonomy as Ankara continues crackdown in southeast
The escalation of violence in Turkey came two months after the Kurdish militia in Syria, known as the YPG, as well as the Turkish pro-Kurdish party, the HDP, accused Ankara of aiding Islamic State in their offensive on Kurdish territories in Syria. At the time, the terrorists were laying siege to the Kurdish border town of Kobani.
Ankara has been stepping up its military operations on the border with Syria and Iraq since December. The area is a stronghold of the PKK, which is considered a terrorist group by Turkey. Turkish President Recep Tayyip Erdogan has vowed to continue the operation until the area is cleansed of Kurdish militants.
You can share this story on social media: