Summer hailstorm batters Johannesburg area, destroys shopping mall roof (PHOTOS)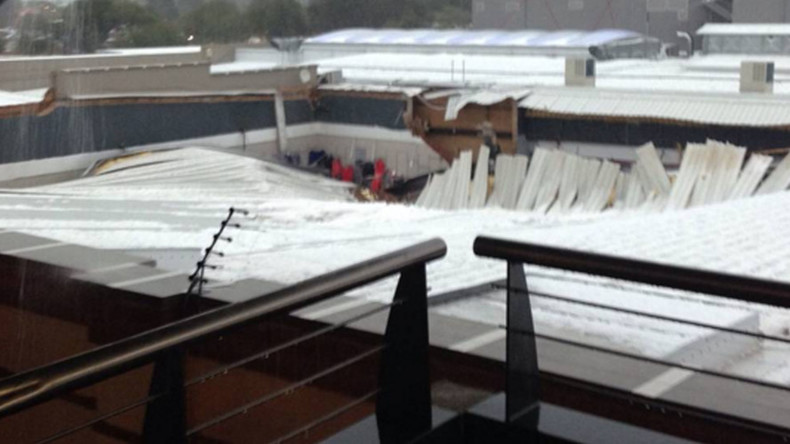 A violent hailstorm has wreaked havoc in Johannesburg, South Africa, causing the roof of a shopping mall to collapse and local residents to take shelter in their homes.
It's summer in South Africa, but dark clouds gathered over the African nation's largest city at around 3pm on Saturday, covering the streets with an unseasonable layer of snow and hailstones the size of golf balls.
Emergency services were called to the Key West Shopping Center in a town west of Johannesburg after the ceiling began to sag and disintegrate, the local Krugersdorp News reported.
Amazingly, nobody was killed, but three people were injured.
Pictures show how steel beams and debris caved in under the weight of heavy rain, the worst to hit the area in years.
A spokesperson for emergency service Netcare 911 told South Africa's eNCA: "Netcare 911 paramedics managed to stabilize three people that have sustained serious injuries on scene.
"They've all been taken to hospital for further medical care."
Johannesburg has experienced record high temperatures in the past week, forcing the South African Weather Service to issue a number heat and "severe thunderstorm" warnings.
"It appears that some cooler and more humid air started to push in from the south and east on Saturday, likely triggering these thunderstorms," meteorologist Nick Wiltgen explained on Weather.com.
"Weather balloon data from Pretoria a few hours before the hailstorm showed an obvious intrusion of cold dry air in the upper atmosphere, a factor that strongly favors damaging hail when overall conditions are favorable for thunderstorm development."
More thunderstorms and heavy downpours are predicted.
You can share this story on social media: