Top ISIS commander reported killed in Iraqi airstrike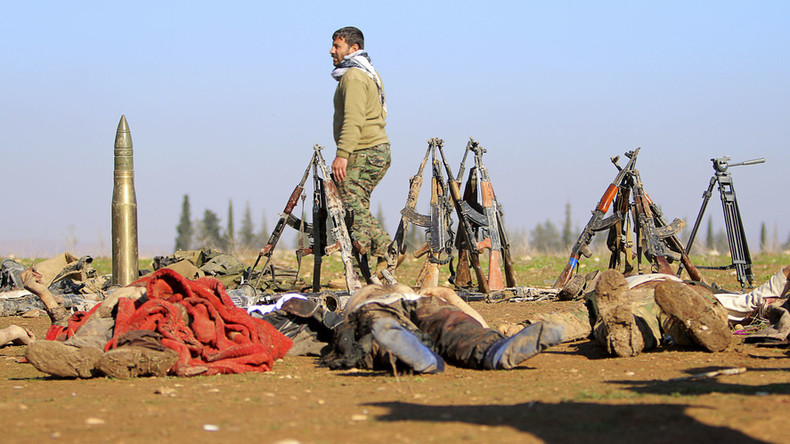 The second top deputy of Islamic State leader Abu Bakr al-Baghdadi and chief of staff of Islamic State's Military Council was killed in an airstrike, the Iraqi Air Force has claimed.
The airstrike allegedly took place in western Anbar province, east of the town of Haditha.
The deceased commander is reported to have been Assi Ali Mohammed Nasser al-Obeidi. He was formerly a colonel in the Iraqi Republican Guards during the reign of Saddam Hussein. He spent some years in American prisons before joining Islamic State (IS, formerly ISIS/ISIL).
Al-Obeidi became acquainted with Abu Bakr al-Baghdadi, the current IS leader, in Camp Bucca prison. The Americans released al-Baghdadi from Camp Bucca in 2009, while al-Obeidi was transferred to the notorious Abu Ghraib prison, from which he escaped in 2013. He became a top IS commander and went under the name of "Abu Omar al-Obeidi."
READ MORE: ISIS leader says US prisons in Iraq led to creation of terrorist organization
Al-Obeidi hailed from the small town of Hawija to the west from Kirkuk. His last post was chief of staff of Islamic State's Military Council.

Al-Obeidi adds to the long list of top rank IS commanders reported to have been eliminated by the Iraqi Army in recent months. They include al-Baghdadi's top deputy Abu Ali al-Anbari and the head of IS' intelligence committee Abu Hassan al-Sahabi.
As recently as Friday, January 8, the Iraqi Defense Ministry announced: "ISIL Spokesman Abu Mohammad al-Adnani was killed during the terrorist group's offensive at the town of Barwani in Iraq's Western territories," although the terrorist group is yet to make any official statement on al-Adnani's death.
In October 2015, a convoy of Islamic State leader Abu Bakr al-Baghdadi was targeted by an Iraqi Air Force airstrike, also in western Anbar province bordering Syria. It was heading to Al-Karable to attend a meeting with other IS commanders. The airstrike reportedly killed dozens of jihadists who were accompanying the IS leader. Al-Baghdadi was wounded himself and evacuated to safety to undergo medical treatment.
You can share this story on social media: