2 dead as wild bushfires rage through Australia (PHOTOS)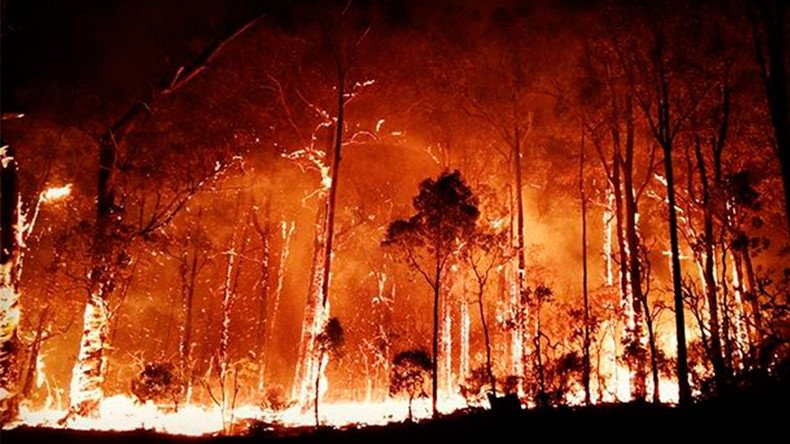 Two men have been killed and at least one remains unaccounted for as deadly bushfires tore through the Western Australia town of Yarloop, destroying more than 130 buildings in its wake.
The remains of two men in their 70s were found by authorities who had been searching burnt-out buildings in Yarloop, 120km south of the state capital, Perth. The town was virtually obliterated by the fire.
A state of emergency remains in place for several communities including Harvey, Preston Beach, Lake Clifton, Myalup as well as their surrounding areas, The West Australian reports.
Authorities have warned residents to evacuate unless they are ready to actively defend their homes against bushfires that continue to burn. Police were knocking on doors in Harvey on Saturday directing people to leave.
The Department of Fire and Emergency Services said that while conditions had eased, the fire is not yet over.
"Our priorities are the northern division between Waroona and the Forrest Highway, the Lake Clifton area and then the southern area out of Harvey," incident controller Brad Della Vale said.
"I think we are not out of the woods yet, I think today's work will reveal how good our containment lines are at this stage, although the winds aren't going to be strong they get up to about 30 kilometres, at 3:00pm ... so that will be the pressure point I think."
A separate bushfire that has been threatening lives and homes around the Dalyup area in the Shire of Esperance has been downgraded to a watch and act.
So far fires have raged through more than 70,000 hectares in the state's South West.
READ MORE: Australian inferno inside view: Firefighter straps on GoPro to show wildfire battle (VIDEO)
Wildfires are an annual summer event in Australia, but rising temperatures have prompted some scientists to warn that climate change could increase the length and intensity of the summer fire season.
You can share this story on social media: