US flies B-52 over Korean peninsula in demonstration of 'strength & capabilities'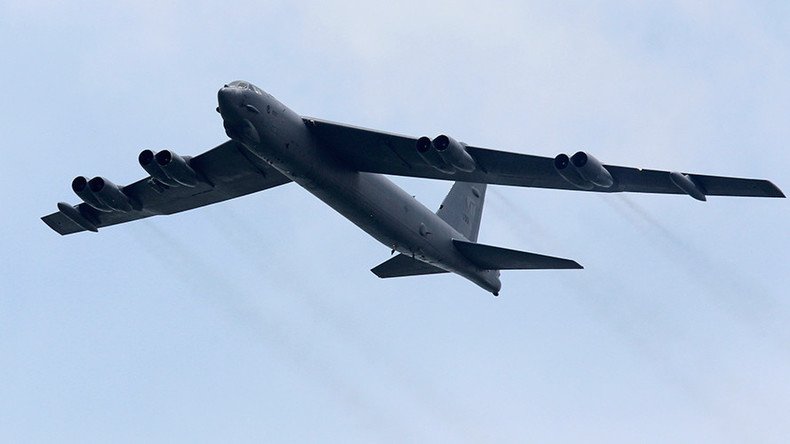 The United States has deployed a strategic B-52 bomber for a low altitude demonstrative flight over South Korea to demonstrate the alliance's might and determination following North Korea's latest provocative underground nuclear test.
"The flight today demonstrates the strength and capabilities of the alliance," said the head of US military deployment in in South Korea, Gen. Curtis Scaparrotti, reported Reuters.
READ MORE: S. Korea turns up propaganda loud blaring North with pop music
The US has demonstrated its "ironclad commitment" to regional allies such as South Korea and Japan, and its readiness to defend "the American homeland," Admiral Harry Harris of the US Pacific Command wrote on Twitter.
"North Korea's nuclear test is a blatant violation of its international obligations. US joint military forces in the Indo-Asia-Pacific will continue to work with all of our regional allies and partners to maintain stability and security," Harris added in a statement.
The US B-52 Stratofortress bomber, escorted by an F-16 fighter aircraft, took off from Andersen base in Guam and was escorted by Seoul's F-15 fighter during its flight over South Korea's Osan Air Base. The long range strategic bomber then returned back to Guam.
The UN Security Council earlier this week unanimously condemned North Korea's most recent nuclear test which was carried out Wednesday. While Pyongyang claimed to have tested a new thermonuclear bomb, experts agreed that the device tested was an atomic bomb similar to those present in three previous tests.
Pyongyang claims that developing a nuclear weapon was vital in order to protect against US interference in North Korean affairs, and that the bomb is the only deterrent against any invasion that could set the nation on the same path as Libya or Iraq.
You can share this story on social media: