NATO report slams Afghan army as mission incapable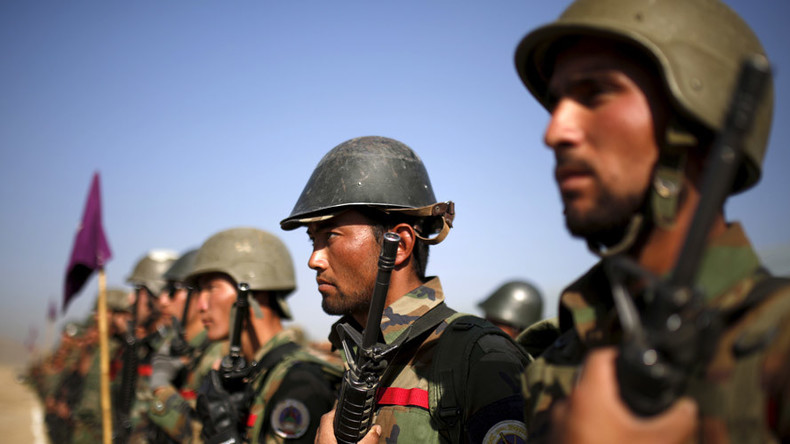 The security situation in Afghanistan in 2016 is poised to deteriorate with the Afghan army having lost a third of its troops. It has potentially been left incapable of fulfilling its duties, maintains a secret NATO report seen by Der Spiegel.
The excerpts from the classified NATO document obtained by Der Spiegel reveal that despite multibillion-dollar international financial assistance, the Afghan National Army (ANA) remains an entity hardly capable of carrying out the functions of a military force.
Out of the total 101 infantry units only one has been characterized by the report as effectively battle-ready, while 38 units have been classified as having "massive problems." Ten battalions of 600 soldiers each have been classified as not operational.
According to the data contributed to the report by US General John F. Campbell, the current commander of the Resolute Support Mission and United States Forces –Afghanistan, out of 17 battalions stationed in Taliban-troubled provinces of Kandahar and Zabul, 12 units have only "limited" readiness.
Another major problem is highly increased battle casualties, which in 2015 grew by 42 percent compared to 2014. Altogether, last year ANA had more than 8,000 combat fatalities, on average losing 22 soldiers every day throughout 2015.
High combat losses definitely contributed to an increased desertion rate, with some ANA soldiers defecting to the Taliban. When combined with combat casualties, ANA lost a third of its personnel in 2015.
A year after the withdrawal of ISAF international contingent from Afghanistan, the Taliban has taken large areas in the southern provinces of Helmand and Kandahar under control. Government security forces have been expelled from most of the northern provinces of Kunduz and Badakhshan, where Islamist militia can now move around almost unhindered.
Terrorists VS terrorists: ISIS in 'direct rivalry with Taliban in Afghanistan,' UN says
Back in September the Taliban seized the provincial capital of Kunduz, where the Bundeswehr maintained a military base in 2006-2013. It took two weeks for the ANA troops and security forces to return control over a city with population of 300,000.
In the meantime, despite being in open conflict with the Taliban, Islamic State is also trying to take hold in the country, posing an additional threats to the region's security.
You can share this story on social media: