Berlusconi plots Italian political comeback and aims to oust PM Renzi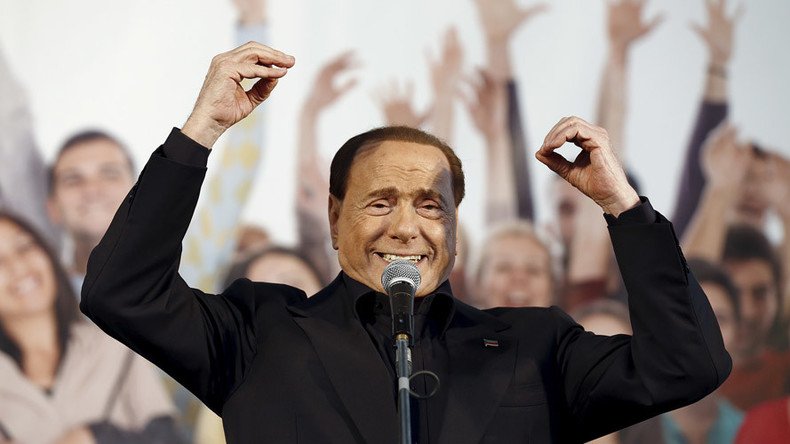 Former Italian Prime Minister Silvio Berlusconi says he intends to re-launch his Forza Italia party this year. He has pledged to oust incumbent Matteo Renzi, while also calling for parliament to be dissolved, saying his own ousting was "unconstitutional."
Berlusconi has kept out of the political spotlight after he was banned from public office in October, 2013, by a Milan appeals court. The media mogul was convicted of tax fraud, while he was also hampered by sex scandals.
The 79-year-old is looking to put that behind him by embarking on a comeback and he has the current Italian Prime Minister Renzi in his sights.
This year "will be the year of the battle against the regime of the left which suspended democracy", Berlusconi told the Il Giornale newspaper, as cited by Reuters. The former prime minister also says he wants to dissolve parliament and has called for new elections, as he believes the way he was ousted was "unconstitutional."
Berlusconi believes his Forza Italia party has suffered in his absence. The center-right Northern League, which is against immigration and the far-right Brothers of Italy party have both done well in his absence from the political scene. However, the politician believes he can unite the right of Italian politics to try and topple Renzi.
"My commitment is to take Forza Italia back to above 20 percent so that the center-right can win the elections at the first round, surpassing 40 percent," Berlusconi said, according to Reuters.
While having been out of politics recently, Berlusconi maintains an excellent relationship with Russian President Vladimir Putin, calling him "the best leader in the world." The Italian politician has been critical of sanctions imposed by the EU on Russia, while he supported Crimea's decision to reunite with Russia.
The media tycoon has also visited Crimea, where he held informal talks with President Putin. However, not everyone took kindly to his visit to the peninsula. Ukraine was so enraged at Berlusconi's move and subsequently joined the likes of US filmmaker Oliver Stone and actor Gerard Depardieu in being blacklisted from entering Ukraine.
You can share this story on social media: