Israeli TV reporter stabbed & injured in knife-proof vest trial (VIDEO)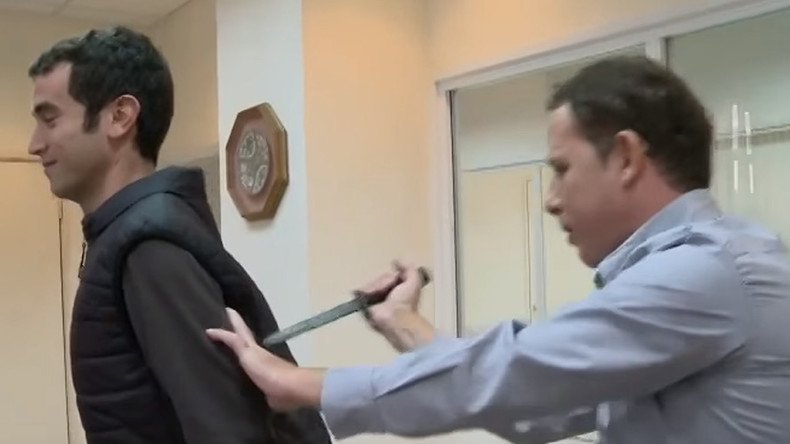 A reporter was hospitalized after a demonstration of a knife-proof vest's effectiveness went wrong, much to the embarrassment of the manufacturer.
Israel has been hit by a wave of stabbing attacks in recent months and, as part of an educational report covering the vest manufacturing process, Channel 1 journalist Eitam Lachover agreed to get stabbed on camera.
But the experiment failed miserably as the protective body armor could not stop the cold steel blade. Luckily, Lachover suffered only a light injury to his upper back, much to the humiliation of the vest's creators, who remain certain of the item's safety features.
In a statement to the Globes, the manufacturers of the vest, FMS Enterprises, said "The knife did not penetrate the vest. The reporter moved during the demonstration, and the 'stabber' missed the vest. The reporter was stabbed slightly above the vest."
Yaniv Montakyo, Vice President of Research and Development said that all the earlier takes were successful and the reporter was not injured.
A stab vest, or stab proof vest is a reinforced piece of body armor, worn under or over clothing that is designed to shield against a knife attack. The particular model in question was made out of semi-hard plastic panels designed to protect the neck and the shoulder blade area in particular. It was designed to be used by the IDF to shield the exposed area of the soldier's body.
READ MORE: 'Stabbing attacks in Israel are not terrorism' – Swedish PM
The company assured that its product has been tested around the world and was found to meet the "most stringent standards – far beyond the stabbing ability of a human being."
Meanwhile, Lachover tweeted that he received stitches and was discharged from the hospital where he was taken following the injury.
דקירה שטחית, קצת תפרים בגב ושוחררתי הביתה. תודה רבה לכל מי שהביע דאגה!

— Eitam Lachover (@eitam_lachover) January 6, 2016
Stabbing attacks against Israeli forces and civilians have become the violent method of choice by Palestinian extremists. Since mid-September, a wave of attacks, mainly in Jerusalem's Old City, have killed 19 Israelis and an American student. Clashes between Israeli forces and Palestinians have at the same time killed more than 120 Palestinians.
You can share this story on social media: