Christmas Eve for millions of Orthodox Christians across the globe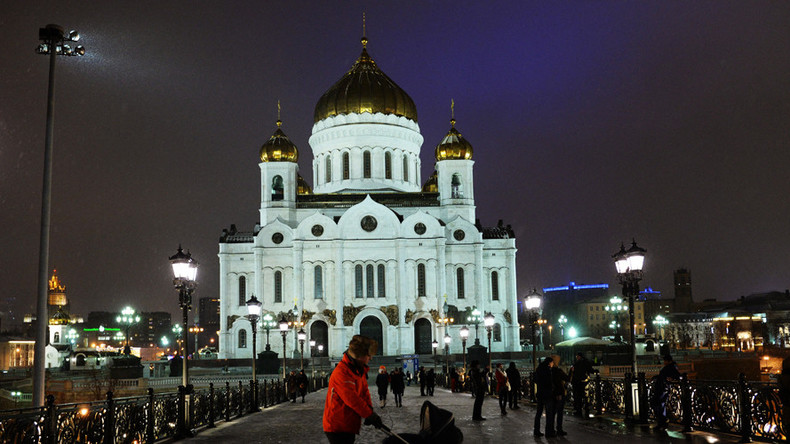 Orthodox Christians across the world are getting ready for one of their major holidays, celebrated on January 7: Christmas. Believers in Moscow have gathered for the Christmas Eve service in the iconic Christ the Savior Cathedral despite the biting cold.
About 350,000 believers will take part in Christmas liturgies in Moscow, according to city authorities. Patriarch Kirill will head the service at Christ the Savior Cathedral.
President Vladimir Putin, however, may not appear there; last year he chose to attend a small church outside Voronezh, where hundreds of people from war-torn Eastern Ukraine gathered to pray.
In his Christmas address, Patriarch Kirill has called to pray for peaceful resolution of the conflict in Eastern Ukraine.
"Confrontation between brothers, which appeared on Ukrainian soil should not divide children of the Church... A real Christian cannot hate neighbors," he said.
The Orthodox Church follows the Julian Calendar, which is 13 days behind the Gregorian Calendar adopted by the Roman Catholic Church in the 16th Century. That is why Orthodox Christians celebrate their Christmas on January 7.
This is a holiday for Russian Christians (nearly three-quarters of Russians are Orthodox), the Jerusalem Orthodox Church, the Serbian Orthodox Church, the Georgian Orthodox Church, and the Ukrainian Greek Catholic Church, as well as for some Protestants who use the Julian calendar.
Christmas in the Orthodox Church is traditionally preceded by the 40-day Nativity Fast in anticipation of Jesus' birth. The believers used to refrain from eating meat and deny themselves any form of entertainment.
The fast period ends with the first star in the night sky on January 6, which is considered a symbol of Jesus Christ's birth.
You can share this story on social media: