Christmas tree petrol-bombed in Belgium by youth shouting 'Allahu Akbar' (VIDEO)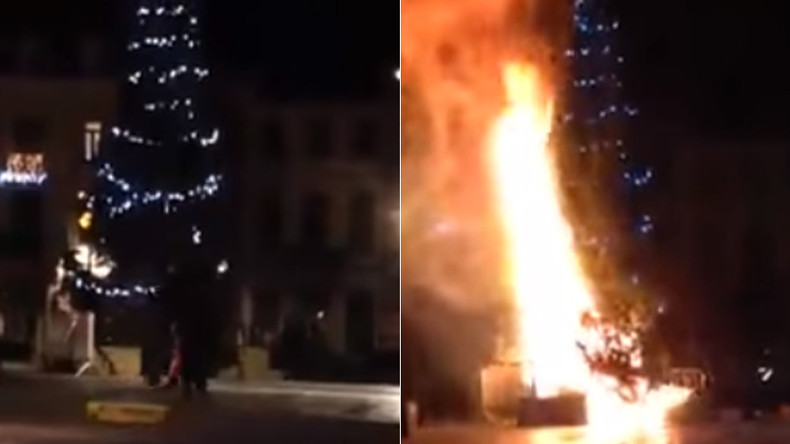 While the city of Brussels was on lockdown on New Year's Eve due to an increased terror threat level, it didn't stop a gang of teenagers from vandalizing a Christmas tree in the Anderlecht area of the city, sparking outrage and fear among locals.
A video of the incident, which was posted across a number of social media platforms, shows a group of youths surrounding a Christmas tree before setting it ablaze with what appears to have been a petrol bomb.
Decorated with electrical lights, the tree quickly became engulfed in flames, while the arsonists fled. Some shouted "Allahu Akbar" meaning "God is great" in Arabic.
The video is understood to have been filmed near the Clemenceau metro station, which was also where a group of teens, possibly the same ones, pushed a car down the stairs into the subway on the same night. One suspect was arrested in the car incident, according to local news site HLN.
Anderlecht is located very close to Molenbeek, an area of the city which has been the focus of police investigations following the notorious Paris terror attacks on November 13.
As the videos of the New Year's rampage spread on social media, many in Brussels said they feared for the city. "Today they will set fire to a Christmas tree, tomorrow they will behead a Christian," one outraged commenter wrote online, as cited by News.com.au.
"Brussels is no longer a free city," wrote another. "Anyone who has ever had the opportunity to travel abroad may realize that the situation in Brussels is neither normal nor tenable in the long-term."
The incidents occurred while the city was on high alert due to the threat of terrorism, which forced Belgian authorities to cancel all official festivities, which attracted some 100,000 people in 2014.
You can share this story on social media: