Poroshenko posts pic of himself photoshopped in Putin's place, then Russians see it… (MEME WAR)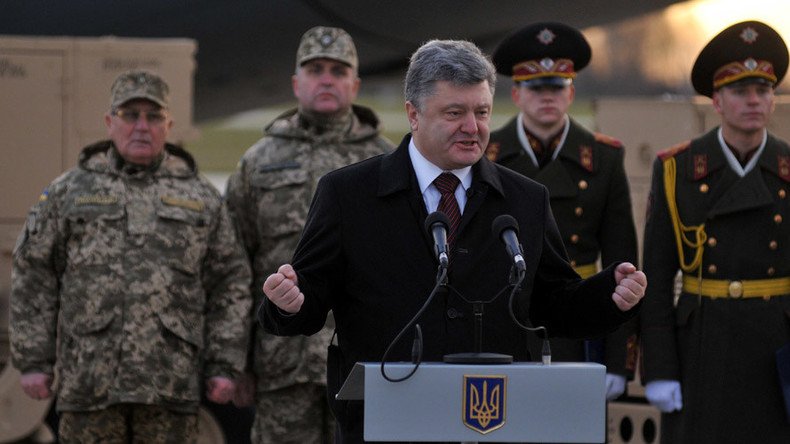 Ukrainian President Petro Poroshenko unleashed a meme war with Russian internet users when he posted a fake cover of The Economist magazine, showing himself in place of Vladimir Putin standing among world leaders.
The spoof used as its basis The Economist's annual supplement, The World in 2016, but the year was replaced with 2017, and Poroshenko was sandwiched between Indian Prime Minister Narendra Modi and UK Prime Minister David Cameron. Poroshenko tweeted the mock-up – later revealed to be a gift from his administration.
"Some presents I don't take as a compliment, but as personal responsibility," Poroshenko wrote in the caption.
Whether it was the self-importance of the text, the offense at the thought of Poroshenko replacing Putin as a world leader, the ridiculousness of a grown man inserting himself into magazine covers, or a suspicion that the Ukrainian leader actually thought said cover was real, the image provoked a Photoshop storm across the Russian border.
Some played up the historic role of the former chocolate tycoon.
Others went for cruder approaches.
Russian parliamentarians piled in, with pro-Putin Duma deputy Aleksey Pushkov saying Poroshenko had gone "into the land of Narnia."
Perhaps taken aback by the unceasing stream of mockery, Poroshenko deleted the tweet – although it has been archived multiple times. Hours later, his administration released a statement saying that the mock-up was a joke that "should be considered in context of Ukraine trying to find its place in the world," and accusing the Russian media of "seeing it without a hint of humor as a threat to Russia's geopolitical status."
You can share this story on social media: