Dozens wounded after Taliban suicide truck targets US convoy in Kabul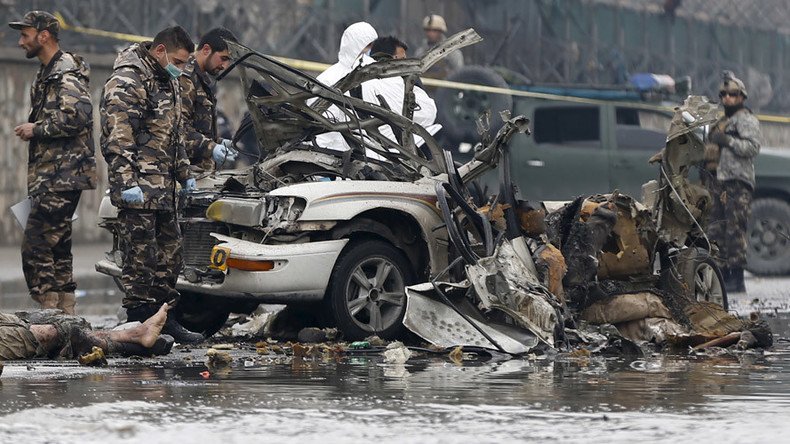 The Taliban has claimed responsibility for an attack that US authorities say targeted a convoy of American embassy guards, moving to a secure compound in Afghan capital Kabul. The suicide bomber did not succeed, but 28 people were wounded.
"The car bomb detonated at the gate of Camp Baron on the military side of Kabul airport," confirmed the ministry of interior, just hours after another suicide bomber blew himself up himself on the same spot.
Taliban spokesman Zabiullah Mujahid confirmed through Twitter that the later attack was aimed at "foreigners."
The country's public health ministry says that at least 19 adults and 9 children are being treated in facilities around the city.
The first attacker detonated a suicide vest, but did not manage to hit anyone but himself, while the second bomber used a truck laden with explosives. The relationship between the bombings remains unclear.
#KabulBlast2 - Reports indicate car bomb exploded at eastern gate of Hamid Karzai International Airport. Reporter on scene says many injured

— TOLOnews (@TOLOnews) January 4, 2016
Similar incidents have become more common throughout the country in recent months, with an ongoing gun battle raging outside an Indian mission in Mazar-e-Sharif, a northern city, following an abortive attack by Islamist militants.
Last week a NATO convoy was also targeted in Kabul, and on Friday, militants staged an explosion at an upmarket French restaurant.
The latest attacks comes a week before scheduled talks with the Taliban in Pakistan. The Islamist group, which comprises competing strands with individual objectives, has been making advances during localized insurgencies throughout the country in 2015, and seems divided over whether it wants to push for a ceasefire or greater territorial gains.
You can share this story on social media: