India quake death toll rises to 9, up to 200 injured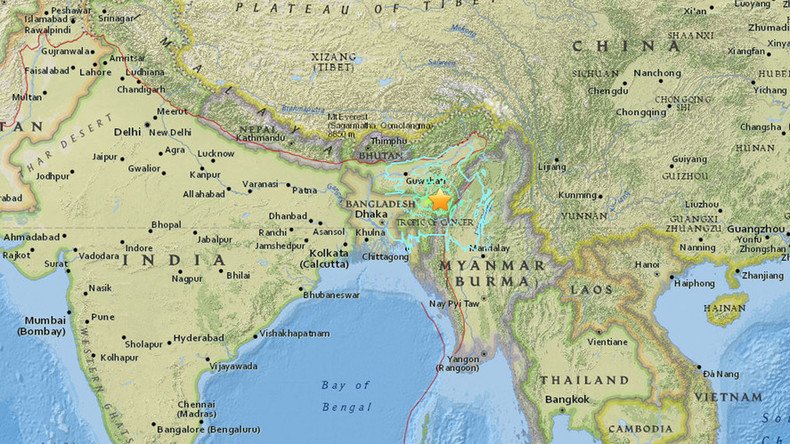 At least nine have been killed and close to 200 injured after a powerful 6.7-magnitude earthquake hit the eastern Indian state of Manipur, close to the border with Myanmar, according to initial reportes coming from the region.
The quake was 55 kilometers (34 miles) deep and centered 29 kilometers west of Imphal, the capital city of the Manipur state, the US Geological Survey has reported. The USGS later revised the quake's magnitude down from 6.8 to 6.7.
India's ANI agency first reported that at least six people had been killed in Manipur.
Prime Minister Narendra Modi's office has been tweeting updates on his meetings with officials, adding that he is closely monitoring the situation in the north-east.
In Imphal, at least four people have been killed and another 100 injured by falling debris, AP quoted local police as saying.
Tremors were also felt in the states of West Bengal and Arunachal Pradesh, as well as in neighboring Bangladesh, Bhutan and Myanmar.
Imphal has a population of over 400,000 people, while the state of Manipur is home to 2,570,390 people.
The city's residents have been tweeting out photos showing structural damage, including rubble and partially destroyed walls. A lot of the destruction is concentrated in Ima Keithel, a local women's market.
One of the photos appears to show an entire 5-storey building lying in ruins.
In Dhaka, the capital of Banghladesh, many on the city's 7-million residents were awoken at night by what they described as one of the strongest tremors they had ever felt.
DETAILS TO FOLLOW
You can share this story on social media: