'Frightening' Shell gas pipeline flares spook Ireland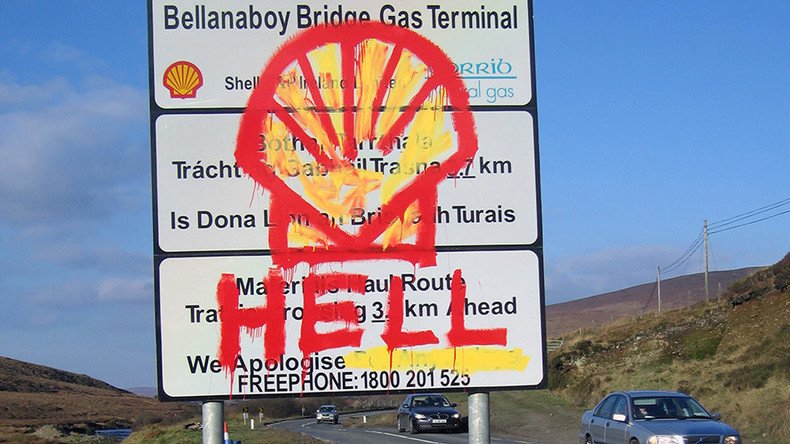 Residents on the west coast of Ireland witnessed a fiery New Year's Eve sky show coming from Shell's controversial natural gas project.
Gas from the Corrib field started flowing for the first time on December 30th after two decades of battles with locals and environmentalists.
Discovered in 1996, the field is 83 kilometers off the shore of county Mayo. It is connected to a new refinery terminal built in Bellanaboy by a pipeline.
"The sky over Broadhaven Bay was pure orange and it seemed as if thick smoke was billowing over the hill behind me," resident Diane Taylor told the Irish Times newspaper. "It looked like the hill over by Pollathomas was on fire."
On New Year's Eve, Shell reportedly had warned residents via a text alert to expect intermittent flaring – a way in which excess gas is burned off.
The company said the practice is "part of normal start-up activities".
A video showing Shell's PR man, John Egan, describing the flaring as a "fantastic way to spend New Year's Eve" was removed from YouTube.
Up until now, locals had only seen test flaring. Judging by the reaction, they are hoping flare stack activity won't become the norm.
Taylor said the incident was "frightening," as she doesn't normally see flaring from her home.
"It was about 8:15pm, and I opened the door and could smell smoke which would burn your nose, so I came right back inside," she added.
Farmer Gerry Bourke, who lives one kilometer from the Ballinaboy site, said there was "nothing normal" about the sounds and flames being emitted from the plant.
The loud noises he describes "like a supersonic boom" can be heard in footage of the flaring.
To date, €3.6 billion have been spent developing the Corrib gas field, even though Shell admits it will only have a lifespan of 15 to 20 years.
Shell's project has faced years of protests, led by the Shell to Sea campaign.
The costs of private security and gardaí (police) overtime helped push the project over budget, which reduces how much taxpayers will make from the pipeline.
In 2005, five men dubbed the Rossport Five were jailed for 94 days after they failed to allow Shell access to their lands. Shell later apologized for its part in having the men sent to prison.
In 2011, five garda members were recorded joking about "raping" and "deporting" two female protesters they had just arrested. In the end, just one of the gardaí was recommended for discipline and none were fired or charged with a crime for what was dubbed the "rape tape".
Sergeant James Gill, one of the gardaí on the recording who was not disciplined, was awarded €33,000 from a defamation lawsuit against a Shell to Sea organizer for a separate incident.
One of the victims of the audio recording, Jerrie Ann Sullivan, said at the time: "Corrib gardaí are politically protected. This is the same reason that people campaigning against Corrib have stopped making official complaints about gardaí."
In 2014, leading social justice activists and six elected officials jointly called for an independent investigation into policing at Corrib.
The same year, Ireland's former prime minister, Brian Cowen, was appointed to the board of Topaz, a company formed to take over Shell and Statoil stations in 2005 by the country's richest man, Denis O'Brien. Last month, he sold Topaz to a Canadian company for €400m.
@DisparatePost Brian 'I'm not a crook' Cowen is a fucking board member of topaz!!! Sweet Jesus, you can't make this shit up!

— Adam Doyle (@adamwaynedoyle) September 13, 2015
John Egan, the Shell PR man who called the flares "fantastic," used to work for the BBC and Ireland's national broadcaster RTÉ. He has been accused of censoring coverage of the controversy with his former colleagues.
At peak production, the Corrib gas field, which lies about 83 kilometers from the Irish mainland, will produce the equivalent of 45,000 barrels of oil per day.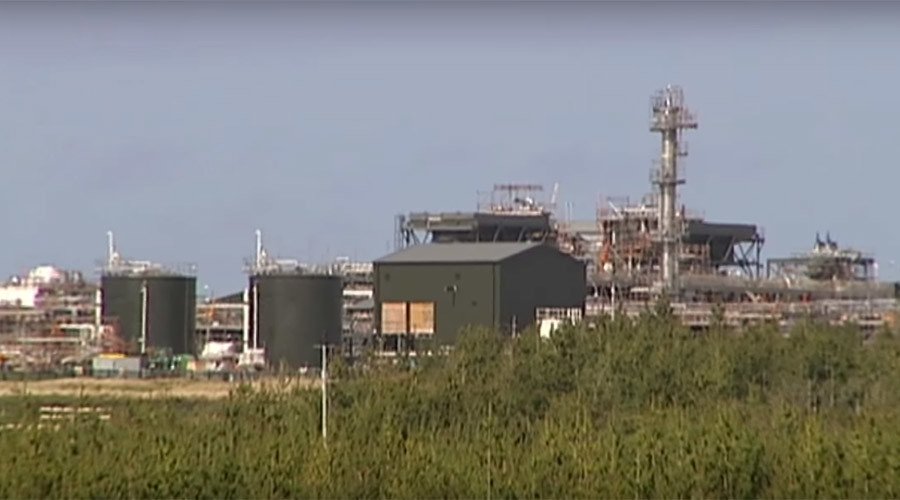 Announcing the opening of the first of six wells last month, Shell E&P Ireland's managing director Ronan Deasy said the gas field will "bring benefits to the region and the country for years to come."
The Corrib Gas Partners – made up of oil and gas producers Shell E&P Ireland Limited, Norway's Statoil, and Canada's Vermillion Energy – say they are committed to ensuring that "emissions are within stringent limits" set by the Irish Environmental Protection Agency.
However, flaring worldwide contributes to more than 300 million tons of greenhouse gases entering the earth's atmosphere, causing damage and contributing to global warming.
Africa's Niger Delta has been a particular focus for environmental activists, where there are at least 100 flares are burning, some since the 1960s.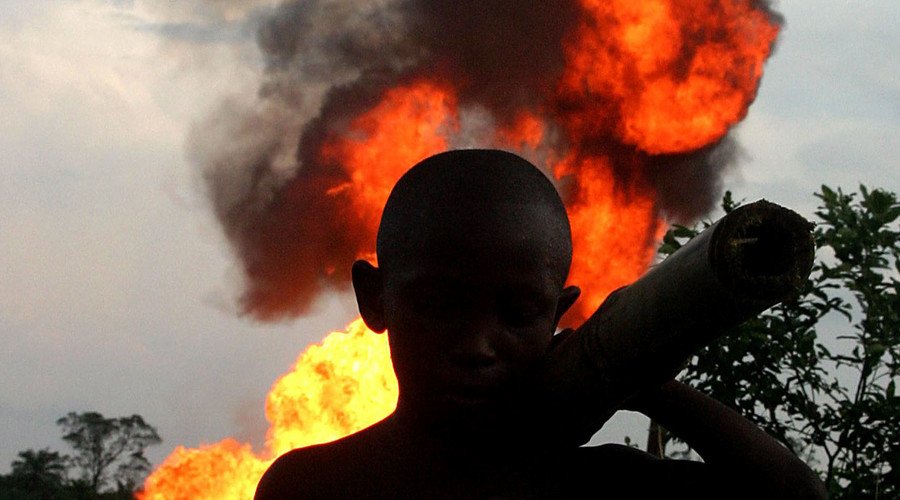 Nigeria has one of the highest concentrations of flares and the lowest per capita electricity rate in the world.
Photos by NASA satellites show how flare stacks "outshine everything else in the Niger River delta."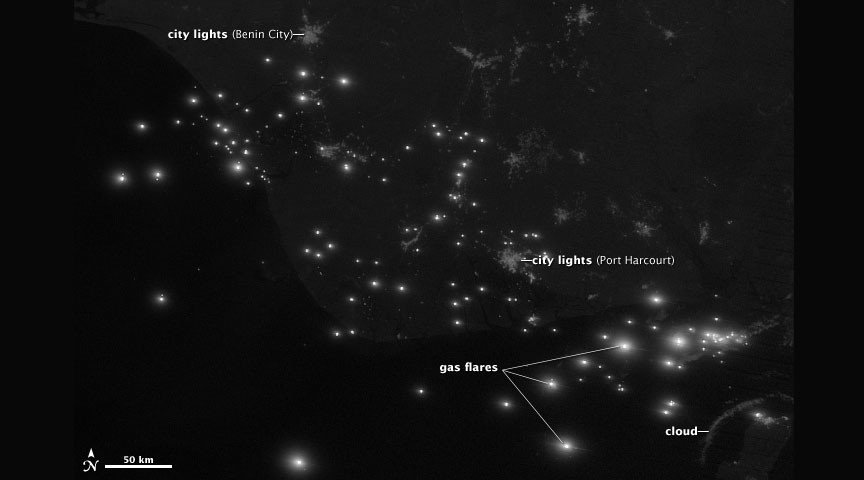 Amnesty International is demanding an end to gas flaring in the area because they pose potential risks to human health in some of the poorest communities in the world.
In March, Amnesty International called for Shell to clean up its act, claiming the company was responsible for 204 oil spills in the Niger Delta in 2014 alone.
"In any other country, this would be a national emergency. In Nigeria it appears to be standard operating procedure for the oil industry," said Audrey Gaughran, Global Issues Director at Amnesty International. "The human cost is horrific – people living with pollution every day of their lives."
In January 2015, Shell agreed to pay out $84 million to residents of the Bodo community for two huge oil spills in 2008 and 2009.
It accepted responsibility for the "regrettable operational spills," but prefaced the settlement by blaming the extent of pollution in the area on "the scourge of oil theft and illegal refining."
You can share this story on social media: