'Serenity now': George Costanza bar opened by Seinfeld devotee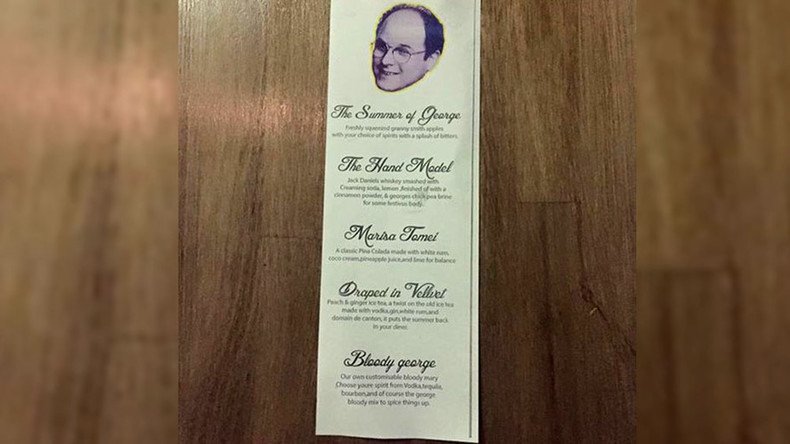 A bar themed entirely on a socially inept and neurotic character from the American sitcom Seinfeld has opened in Australia, serving George Costanza themed food and drinks.
Best friend to Jerry Seinfeld, the balding eternal loser has whole pages of the internet dedicated to his ridiculous outbursts: "Everybody has to like me, I must be liked" and "Don't get all crazy on me."
Now, at long last, fans of Costanza can go for cocktails, a double cheese Art Vandalay toastie and reminisce about the '90s comic character that featured in all but one of the Seinfeld episodes.
George's Bar was set up in Fitzroy, Melbourne by Dave Barrett, an enthusiast of "the show about nothing."
The television program ran for nine seasons and is loosely based on the life of comedians Jerry Seinfeld and Larry David.
"We came up with the name George's and worked backwards, concept theming it," Barrett told Australia's Fairfax Media.
"The humor around George works. So at the moment we've got our toasties menu which has items like The Art Vandalay, The Costanza, and The Mom and Pop. We're still finalizing the cocktail menu but it will be similar."
There's even talk of a bizarre George Costanza art show.
"One guy contacted me last night who lives in Melbourne and who is in the middle of eight different George Costanza paintings. We are talking about doing a show with him."
News of the unusually decorated establishment has created a mini storm online, with Jason Alexander, the actor who portrayed Costanza, even praising the idea on his Twitter.
The owners admit "Cheesy bars in Melbourne aren't really a thing," so they will be hoping to avoid a Newman-like disaster.
You can share this story on social media: