At least 2 dead, several injured in Tel Aviv shooting, terror attack suspected (VIDEO)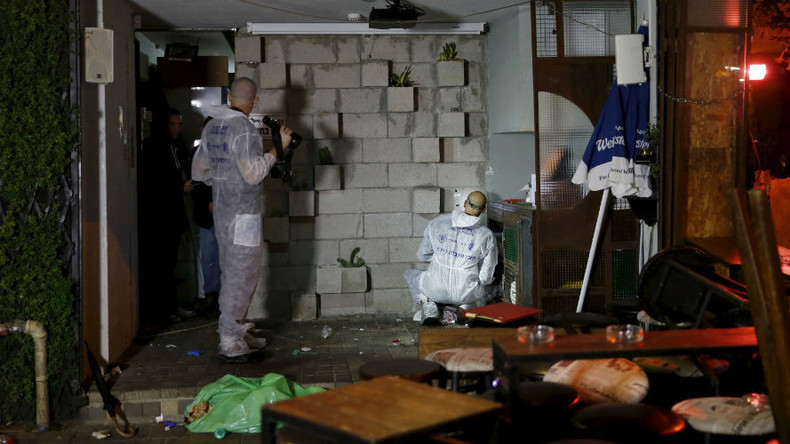 At least two people have been killed and several others have been injured following a shooting in central Tel Aviv on Friday afternoon. Police are searching for the suspect who appears to have stolen the gun from his father.
The incident took place at a bar on Dizengoff Street. The two people killed in the incident have been identified as locals.
At least seven people are believed to have been wounded, two of whom are in a critical condition, according to the Jerusalem Post.
Government spokesman Micky Rosenfeld said that police are investigating the attack and it is not clear who was behind it. However, there is a growing consensus among security officials this was a terrorist attack.
A witness told Haaretz that there was only one gunman, who he described as being "light-skinned and not Eastern looking," carrying an M-16.
The attack took place at around 3:00 pm local time in one of the busiest areas of downtown Tel Aviv. Witnesses say they heard 10 shots fire in bursts from an automatic weapon.
Nati Shaked, one of the co-owners of the Rafinta Bar where the shooting took place, told Army Radio, as cited by the Times of Israel that he saw "someone armed with an automatic rifle just walking in the street. He saw a lot of people here who he could shoot at, and started to shoot."
The attacker "shot everywhere. There was hysteria and chaos."
A photo of suspected attacker who is believed to have carried out the shootings on Dizengoff Street has emerged on social media.
Police are said to have identified him as 29-year-old Nashad Milkham, reported YNet.
According to Haaretz, the suspect stole the gun from his father, who works in security. The father recognized him from media reports and contacted authorities, realizing his weapon was missing.
There have been conflicting reports regarding whether the attacker has been apprehended by police. A manhunt is currently underway, while a number of businesses in the area have closed.
Tel Aviv Mayor Ron Huldai called on residents "to be alert," saying "this looks like nationalist [terror], but it still isn't clear" what the motive was, the Times of Israel reports.
Terrorism "attempts to frighten us and disrupt our lives. I urge everyone to take a deep breath, relax, and we will take care of this."
Haaretz reports that this is the first fatal attack to have taken place in Tel Aviv since November 2, when two people were killed in a stabbing in the southern part of the city.
The attack in Tel Aviv comes amid months of tensions between Israelis and Palestinians. At least 131 Palestinians have been killed by Israeli security forces, while 21 Israelis have died mainly in stabbings, shootings and car-ramming attacks.
Palestinians have become frustrated by Israel's refusal to enter talks about finding a two-state solution, which would lead to an independent Palestinian state. The Palestinians have also been outraged by Israel expanding settlements into the West Bank and having restricted access to the Al-Aqsa Mosque in Jerusalem. The site, Islam's holiest outside Saudi Arabia, is also revered by many Jews as a vestige of their biblical temples.
You can share this story on social media: