Manhunt launched for 7 'Iraqi' ISIS-linked suspects after tip about planned NYE attacks in Munich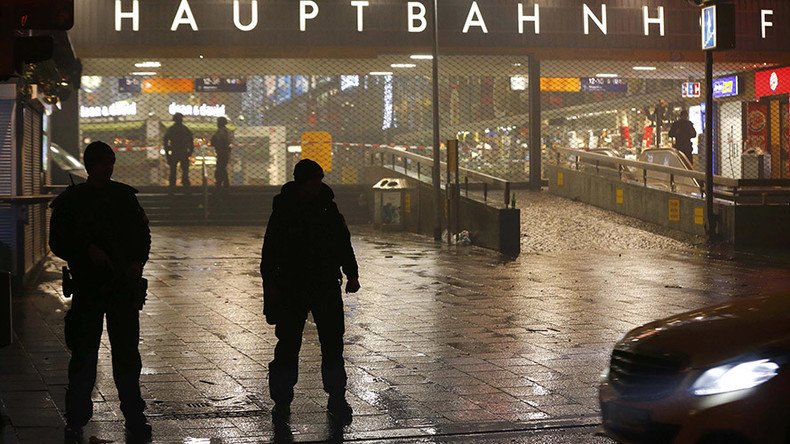 Acting on a tip-off from a "friendly intelligence agency," German police are hunting seven suspected terrorists, possibly Iraqi nationals linked to Islamic State, who allegedly planned to blow themselves up in Munich train stations on New Year's Eve.
Just hours before midnight, Germany received a tip-off from US and French intelligence about a group of five to seven Iraqi would-be suicide bombers armed with Kalashnikovs who planned to blow themselves up at two train stations in Munich in an attack similar to those that killed 130 people in Paris, regional broadcaster Bayerischer Rundfunk reported.

According to the broadcaster, American and French intelligence services possibly received their information from the same source.
According to Bavarian Interior Minister Joachim Herrmann, the tipoff indicated that Islamic State (IS, previously ISIS/ISIL) was behind the planned attacks.

Munich police chief Hubertus Andrae told a news conference Friday that German officials had received a "very concrete" tip that suicide attacks were planned on New Year's Eve at two train stations.

"We received names. We can't say if they are in Munich or in fact in Germany," Andrae said.

"At this point, we don't know if these names are correct, if these people even exist, or where they might be. If we knew this, we would be a clear step further," he added.

German police on Thursday evacuated Munich's central railway station, as well as another station in Pasing, due to an imminent terror threat. On Twitter and Facebook, Munich police asked people to avoid crowded places amid the ongoing New Year celebrations. Both stations were later reopened.

German police lifted their imminent attack alert in Munich on Friday afternoon.
The police presence at Munich train stations has been reduced, with no concrete indications that a terrorist attack could take place in the coming hours or days, Interior Minister Herrman said Friday.

"We still have significant police deployment at Munich central station and Pasing station but this has been significantly reduced compared to last night," he said.
You can share this story on social media: