Heavy snowfall causes mass disruption in Turkey as New Year's holiday looms (PHOTOS)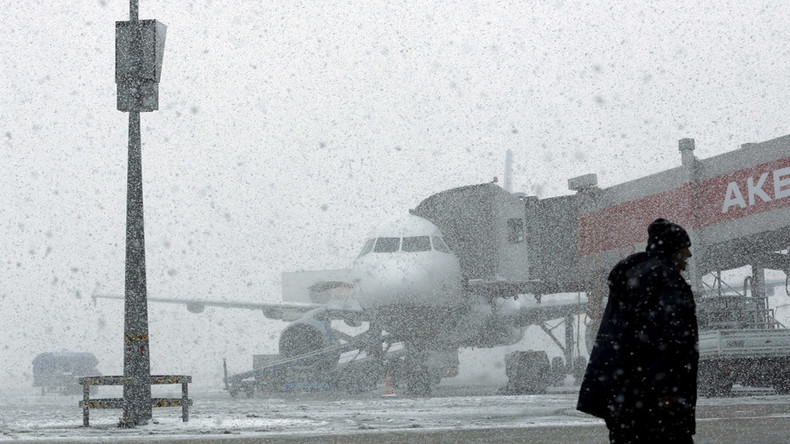 Parts of Turkey have been paralyzed by heavy snowfall ahead of the country's New Year's Eve celebrations. Istanbul's Ataturk Airport has been forced to cancel over a hundred flights, while there are major disruptions at other transport links.
Snow started to fall across many provinces in Turkey on Wednesday that has continued into New Year's Eve, proving to be a nightmare for travelers wishing to take in the holiday celebrations.
Turkish Airlines was forced to cancel 265 flights in and out of Istanbul's Ataturk airport and another 37 at Sabiha Gokcen, the city's second air hub.
During a press conference held on Wednesday, Turkey's Forestry and Water Affairs Minister, Veysel Eroglu, warned citizens they were in for a white start to 2016, urging those venturing outside to take extra care.
"I recommend children and elderly people not to go out [unless necessary] due to the freezing weather," Eroglu said. He also warned drivers of icy roads and advised them to have ropes and chains in their cars in case they need to be towed home, Today's Zaman reported.
Temperatures edged below freezing and between 10 and 20 centimeters of snow fell in Turkey's largest city on Thursday.
Ferry services, which help to transport people between the Asian and European parts of the city, have also been disrupted in Istanbul. The Istanbul Fast Ferries Company was forced to cancel a number of its ferries between Istanbul and the northwestern town of Bandırma.
At least one person was killed and 30 were injured in a mass pile-up on a major road into Istanbul involving 13 cars. Another large-scale accident saw 15 vehicles collide in a district of Istanbul, leaving three people with life-threatening injuries.