14yo Indian girl gang raped by soldiers on train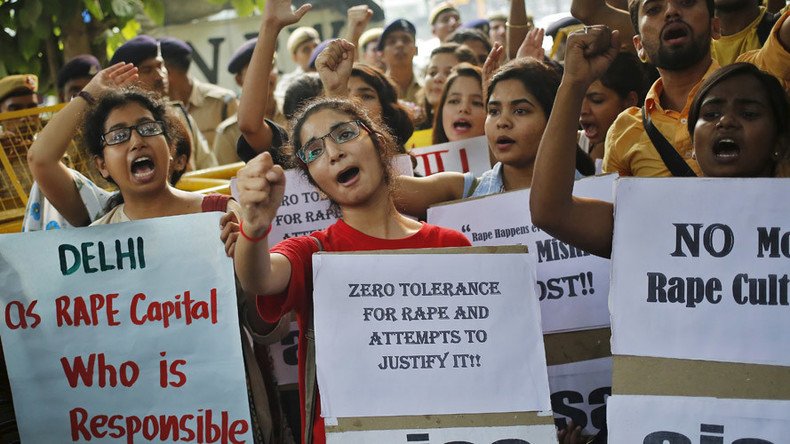 A teenage girl is receiving treatment in India after she was forced to drink alcohol and then raped by two army officers.
The 14-year-old is understood to have mistakenly boarded a carriage reserved for army officers on the Howrah-Amritsar Express in the eastern state of Jharkhand on Sunday. Once on board, a junior army officer gave the girl alcohol before another two officers allegedly raped her six times when she went to the toilet.
The Indian Express reports the girl had run away from her home in Kolkata earlier that day after not being allowed to visit her friend. After her family reported her missing, authorities established she had boarded a train when she was spotted on CCTV footage.
Police halted the train at a station in Madhupur, where a search of all carriages was carried out. The girl was found in a near unconscious state in the army carriage with one of the officers, Mandrish Tripathi, beside her. Officers removed her from the train, Tripathi was arrested, and the train allowed to continue its journey. The victim appeared to be unaware of what had occurred.
When police questioned the girl, it emerged she had been forced to drink alcohol and raped. After a medical exam confirming this, the girl identified the perpetrators on the railway's CCTV footage. By this time, however, it was noon on Monday and the accused army officers had already disembarked the train, The Times of India reports.
While two officers remain at large, Tripathi has been charged under the Protection of Children from Sexual Offences Act for supplying alcohol to the teenage girl. The army is understood to be working with detectives to establish the identities and whereabouts of the other two accused officers.
Following the fatal gang rape of 23-year-old Jyoti Singh by a group of six men on a bus in Delhi in 2012, and the controversy and media coverage that followed, India has increased its scrutiny of such crimes and intensified its approach to dealing with them. The government has since introduced tougher laws which can result in a convicted rapist being jailed for up to twenty years.
You can share this story on social media: