Filipino priest grounded by Church for gliding on hoverboard during mass (VIDEO)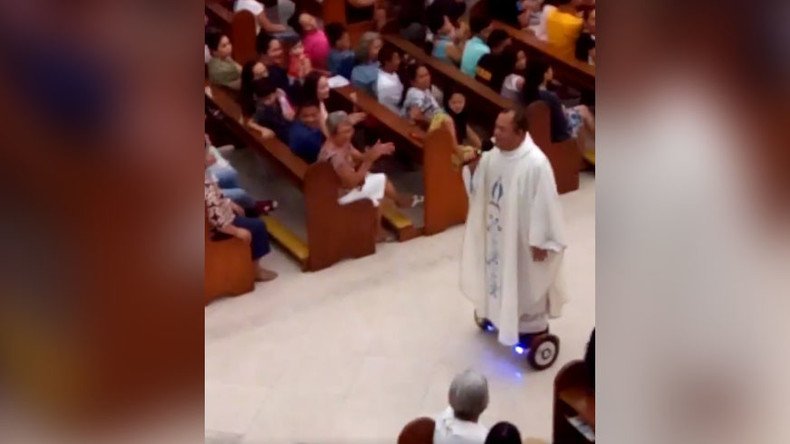 Hoverboards were trending as a must-have item this Christmas, but a priest in the Philippines found himself in hot water with the Church after demonstrating the use of one during mass.
A video, which has racked up over fourteen million views in three days, shows Father Albert San Jose from the Philippines Diocese of San Pablo standing on a hoverboard while singing during a Christmas Eve mass at the Lady of Miraculous Medal church in Biñan town.
-Ce curé est hilarant sur son hoverboard Weebot, leur E-shop : www.wee-bot.com - This Pastor is so funny on his Weebot, get yours on http://www.wee-bot.com- Este cura Sí está a la moda con su Weebot, Compra la tuya en http://www.wee-bot.com

Posted by FLOW CARTAGENA on Saturday, December 26, 2015
While the parishioners seemed to enjoy the rather unorthodox approach, the stunt did not go down well with the priest's bishop.

"That was wrong," the archdiocese said in a statement released on Tuesday. "The Eucharist demands utmost respect and reverence. It is the Memorial of the Lord's Sacrifice. It is the source and summit of Christian life."
My priest rolled out of mass today on a hover board

— Clarissa Jolley (@crjolley18) December 27, 2015
I just saw an fb vid of a priest holding service on a hoverboard, I'm ready for 2015 to be done

— Daniela (@DemocratDaniela) December 27, 2015
"It is not a personal celebration where one can capriciously introduce something to get the attention of the people," the statement adds.

The archdiocese has also confirmed that Father San Jose has been temporarily removed from his duties at the parish, so that he can "spend some time to reflect on this past event."
Father San Jose has apologized for the incident, describing it as "a wake-up call" and promising it "will not happen again."
Social media has been divided on the issue, with some people failing to find anything wrong with a priest preaching from a hoverboard, while others argued that the stunt was distracting the parishioners from the very essence of mass, as well as providing an unnecessary display of wealth.
So why is it bad for a Priest to use a hoverboard? Am I missing something?

— Ish (@ishfillet) December 30, 2015
A Priest with his hoverboard while celebrating a mass WTF

— Glicerio N Candido (@mrCaptcharisma) December 27, 2015
The rest simply wondered why on earth someone would use a hoverboard in a church.
But why would a priest decide to ride hoverboard. During mass 😂

— George cares (@GEORGESKETCH) December 29, 2015
You can share this story on social media: