Saudi Arabia, Turkey to set up 'strategic cooperation council'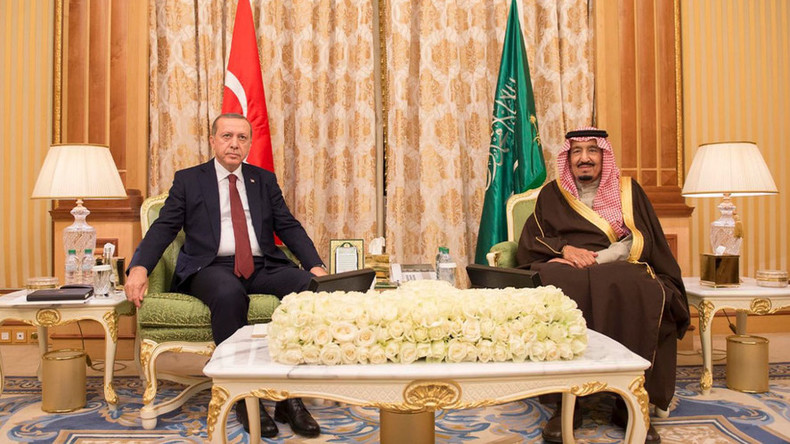 Saudi Arabia and Turkey plan to create a 'strategic cooperation council' to strengthen military, economic and investment cooperation between the two states, Adel al-Jubeir, the Saudi foreign minister, said.
The issue was discussed during a two-day visit by Turkish President Recep Tayyip Erdogan to Riyadh, which began on Tuesday.
"The meeting produced a desire to set up a high-level strategic cooperation council between the two countries," Jubeir told a joint news conference after talks between Saudi King Abdullah and Erdogan.
According to the FM, the council will regulate security, military, economic, trade, energy, and investment ties between Riyadh and Ankara, Reuters reported.
Erdogan arrived in Saudi Arabia for the third time in 2015 to discuss Syria and other regional affairs, including Yemen and Libya.
Before his departure, the Turkish leader said that his government is working "in solidarity and consultation" to find a political solution for the Syrian crisis, Today's Zaman reported.
Riyadh and Ankara have similar stance on these issues – both pushing for the removal of Syrian President Bashar Assad from power.
Turkey is also a member of the 34-nation Islamic military alliance, which was announced by Saudi Arabia earlier in December.
Erdogan again slammed Assad in front of journalists, accusing the Syrian president of "mercilessly" killing hundreds of thousands of people.
"You cannot go anywhere by supporting a regime that has mercilessly killed 400,000 innocent people with conventional and chemical weapons," he said.
READ MORE: ISIS leader threatens Israel, calls for revolt in Saudi Arabia
According to UN estimations, at least 250,000 people have been killed in the nearly five-year Syrian conflict, while around 12 million people have been displaced, causing a massive refugee crisis in Europe.
Relations between Riyadh and Ankara deteriorated under previous Saudi leader King Abdullah, who spoke out against Turkey's support of the Muslim Brotherhood group in Egypt.
However, ties have improved since King Salman acceded to the throne in January, as the new Saudi ruler has been seeking Sunni allies to counter the monarchy's main geopolitical rival, Iran – a Shia Muslim country.
You can share this story on social media: