Iraqi forces raise flag over ex-ISIS stronghold Ramadi in 1st major victory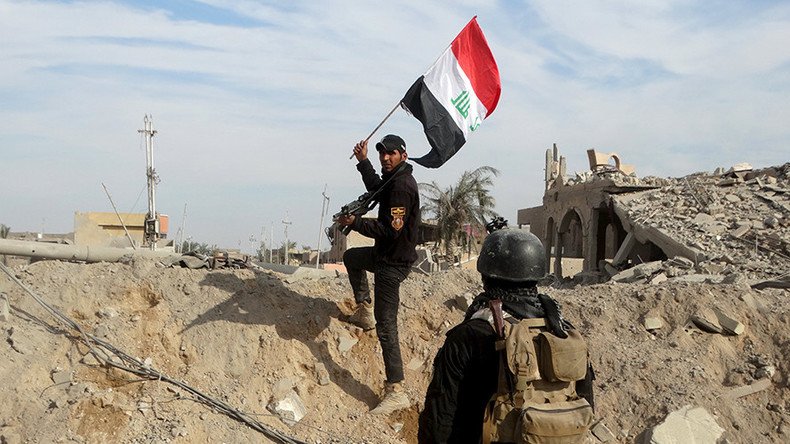 The government complex in the western Iraqi city of Ramadi has been "fully liberated & the Iraqi flag hoisted over the government complex," military officials declared on local TV. The area was Islamic State's last stronghold in the city.
"By controlling the complex this means that they [Islamic State, IS, formerly ISIS/ISIL] have been defeated in Ramadi," Sabah al-Numani, a spokesman for the Iraqi counter-terrorism units leading the fight, told the news agency.
Al-Numani stressed the complex is under full control of the Iraqi forces with "no presence whatsoever of Daesh [ISIS] fighters" adding that some militants could still be hiding in "pockets that could exist here or there in the city."
A major clearing effort is still needed to allow Iraqi troops to move freely around the city as IS militants had filled the area with bombs and booby-traps. The necessity of a clear-up operation prevented the Iraqi government and the military from declaring a victory immediately, although some people in a number of cities were already celebrating, AFP reports.
"The forces of anti-terrorist units are working day and night on the disposal of improvised explosive devices and car bombs left by ISIL militants in central Ramadi, who have escaped in the direction of Al-Khaldiya," Lieutenant-General Abdul-Ghani Asadi told Sputnik.
Iraqi forces advanced to the provincial government compound in Ramadi overnight and encircled the terrorists in the complex earlier on Sunday.
The Ramadi offensive has been supported by airstrikes from the US-led coalition, but Iran-backed Shiite militias were barred from the operation by the government, in order to avoid sectarian violence in the mainly Sunni Anbar province.
The city was seriously damaged during the fighting with some districts being completely destroyed by the Iraqi Army advance, Reuters reports. Falih al-Essawi, a regional council member of the Anbar province, urged the government to start rebuilding the city quickly.
"It will not be easy to convince families to return to a city that lacks basic human needs," he said as quoted by Reuters.
The Iraqi government plans to hand the city over to the local police and local Sunni tribal forces in order to convince the local community to join the fight against Islamic State.
"We have trained hundreds of tribal fighters, their role will be holding the ground," Brigadier-General Yahya Rasool, the spokesman for the Iraqi joint operations command, said as quoted by Reuters.
"Seeing their own tribes responsible for security will be a relief for the civilians," he added.
Ramadi, the capital of the Anbar province, was seized by IS militants in May after about a week of fighting with the governmental forces.
You can share this story on social media: