Train with 200,000 liters of sulphuric acid derails in Australia (PHOTOS)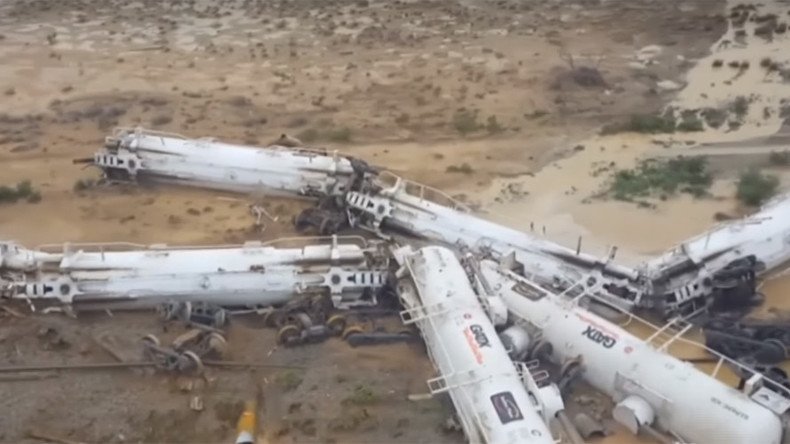 A freight train carrying 200,000 liters of sulphuric acid has derailed in northeast Australia. Acid and diesel fuel have spilled. The locomotive and all its 26 carriages derailed at 10:20am local time east of the outback town of Julia Creek.
The perimeter around the spillage was immediately sealed off, to contain the toxicity. Locals told ABC they could smell the acid immediately. A state of emergency has been declared in a two-kilometer radius.
"Two drivers have been released and the third is expected to be released later today," said the spokesperson for Aurizon, Australia's largest freight rail operator. "At this early stage, the cause of the incident is not known. Both Aurizon and Queensland Rail will investigate the incident and determine its cause," he added.
"At this time the focus is on recovery of the incident site."
The Flinders Highway has been shut in the vicinity of Julia Creek and Richmond. Queensland Rail says it doesn't know how long it might take before the line opens again.
Authorities can't assess the damage, as wet roads from recent rains have made it difficult to get to the site. The rail operator says it's looking for different ways to reach it.
"Passenger rail services have been canceled. The Inlander has been canceled today and tomorrow from Townsville to Mount Isa," a spokeswoman said.
The status of the derailed carriages remains unknown. Aurizon says it has put temporary site safety measures in place before the damage can be further assessed.
You can share this story on social media: