Santa lights Tree of Martyrs in Gaza (VIDEO)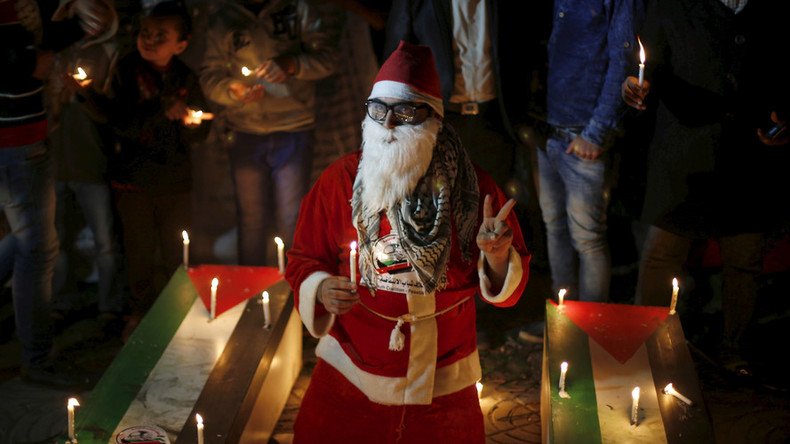 It was festive season in occupied Palestine, as 'Santa' attended the lighting of the Tree of Martyrs in the West Bank. Dozens were in attendance at the Al-Jundi Al-Majhool Square in Gaza City for the ceremony.
Some in the crowd stood silently with candles in hands. Others arranged the candles around the installation carrying the occupied country's colors. The same was done with ribbons and flags for the tree, as the Christian Palestinians displayed a message of resistance to the world.
Palestinians continue to feel threatened by Israel's actions, which is stepping up measures to counter violence by Palestinians, who have in the past 12 weeks killed 20 Israelis and one US citizen, according to Reuters. The figure, however, for Israeli forces or armed civilians killing Palestinian civilians, stands at 127 people. Of those, 77 have been described in police reports as assailants.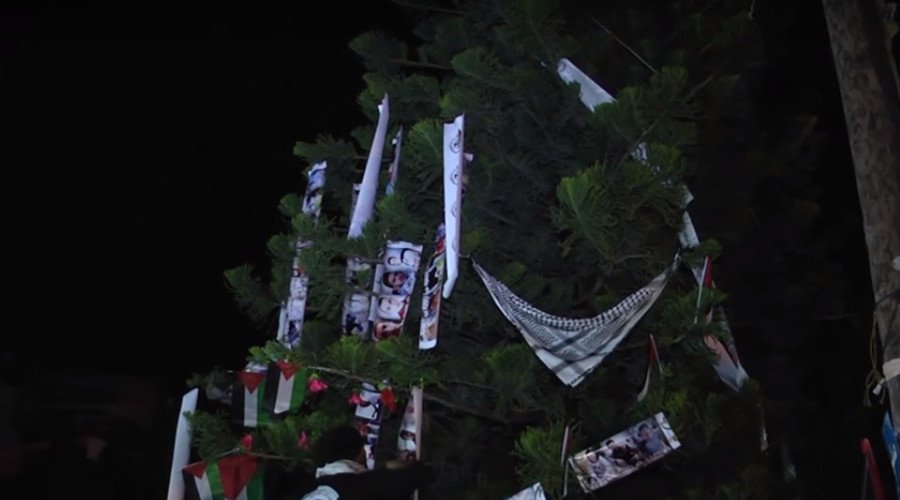 There have been mounting fears since October of a new widespread outbreak of nationalistic violence between the two populaces.
READ MORE: 'Stabbing attacks in Israel are not terrorism' – Swedish PM
Activity by the Israelis has been stepped up around the disputed Al Aqsa Mosque, on Temple Mount, which is holy to both Muslims and Jews. Palestinians claim Israel wants to change the rules on sharing the complex and are nudging them out of the way. Frequent violence has been taking place between civilians around the complex, involving also the IDF.
The Al Aqsa incident in October, when the IDF tried to restrict the area, has spiraled into violent episodes that have been increasing in number, often involving young Palestinians carrying out knife attacks in broad daylight.
The latest round of US-brokered talks between the two administrations collapsed in April.
You can share this story on social media: