Dozens injured as 6.2 magnitude quake jolts northern Afghanistan, India & Pakistan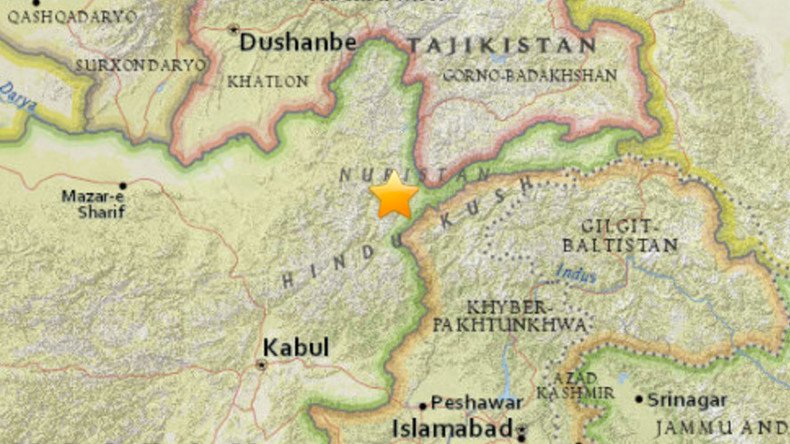 A 6.2 magnitude quake has hit northern Afghanistan, with strong shakes being felt in neighboring Pakistan and northern India. At least 41 people were injured in the Pakistani city of Peshwar, where several old houses reportedly collapsed.
The quake, which was initially reported at a magnitude of 6.4, then downgraded to 6.2, struck northern Afghanistan on Friday, the US geological survey (USGS) said.
The epicenter fell 81km southeast of the Afghan city of Feyzabad, 40km west-south-west of Ashkasham, according to US seismological monitors. Tremors were felt in the Afghan capital, Kabul, Pakistan's capital, Islamabad, and in India's capital, New Delhi.
The government of Pakistan's Khyber Pakhtunkhwa province issued a red alert in the wake of the quake. At least 41 people in the northwestern Pakistani city of Peshawar were taken to hospitals after the walls of several old houses collapsed, Pakistan's Dawn newspaper reported, citing doctors and rescue officials.
A Pakistani official, Ghulam Rasool, told AP that a strong earthquake had struck the region, shaking buildings and forcing residents in Islamabad out of their homes.
The Himalaya region, located where the India and Eurasia plates collide, is one of the most seismically hazardous regions on Earth.
In October, more than 270 people were killed and hundreds more were injured in a 7.5 magnitude earthquake which struck northern Afghanistan, Pakistan and India. Massive tremors jolted New Delhi, Islamabad and several other major cities.
You can share this story on social media: